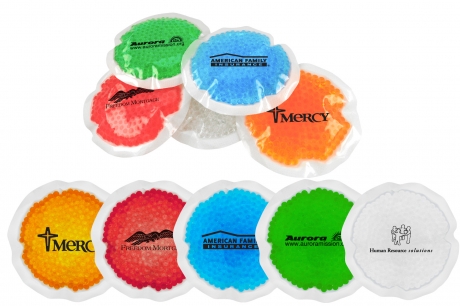 Custom cold packs with gel beads – perfect for doctors, medical spa's, hospitals and clinics
With the rise in popularity of all non-surgical aesthetic procedures such as botox and fillers, these custom printed soothing cold packs with gel beads can offer some much needed relief to patients.  They can also be branded with your company logo and other information for incredible repeat brand marketing exposure.  The imprint area is a 2.25″ in diameter which will give your company logo the attention it deserves.
These soothing cold packs are manufactured with a soft, non-woven plastic backing which can help to take a bit of the edge out of the cold factor.  
With colors such as red, blue, clear, green and orange, you are sure to find a color that best suits your company image.
One of the benefits to cold packs with gel beads versus non-bead gel packs is that the beads can offer freedom from any concerns that may rise with a liquid based product.
Click here for additional product information.