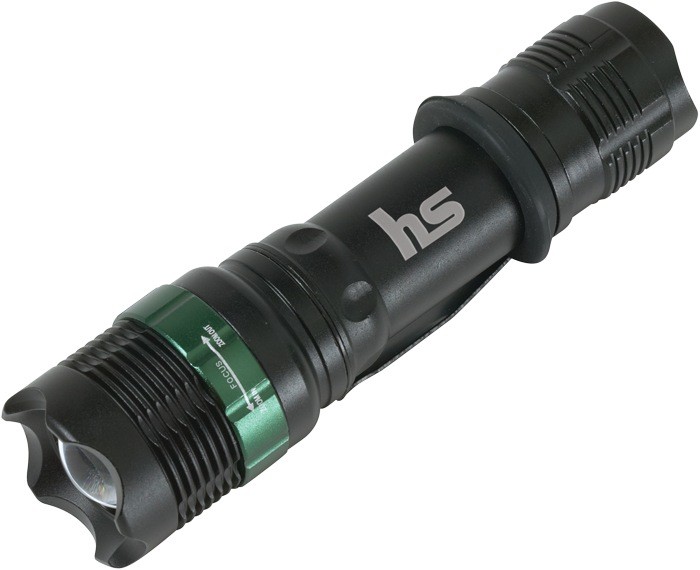 Give your clients and employees the gift of light–extremely powerful light, that is–with an added bonus: your company's logo. This Cree LED flashlight is high-end, all-purpose and efficient. Anyone can appreciate a useful custom-branded business gift like this one.
Take this powerful LED flashlight anywhere. Whether you bring it along on a business trip, take it on a treasure hunt in your garage or use it to light your way during a hike, this custom-engraved powerhouse will last longer than expected.  Plus it Includes belt clip and three AAA batteries.
Have your logo custom-printed on these flashlights and offer your business associates a way to save energy. According to  lighting experts, Cree lighting is just as efficient as standard lighting while utilizing only 15% of  the power used by traditional lights. In other words, this powerful, high-end flashlight can save a user hundreds of dollars in energy consumption.
Furthermore, thanks to its ability to be engraved or printed with a custom logo, this Cree LED flashlight can easily serve as a promotional tool. Spread the word about your business while standing behind energy efficiency and an all-around sound product.
This flashlight sports a creative design, with its   tactical strike bezel and  scalloped tail. It also conveniently features a stainless steel belt clip–the ultimate characteristic of a high-end , custom product. With an output of 207 Lumens High and 114 Lumens Low, the range of this shining beauty is astounding. For effortless adjustment, it also features a Rotary action focus ring which allows the user to choose lighting that is anywhere from a long-distance, narrow beam that is clear and concentrated to a broad perimeter beam. Even the lighting is customizable!
Brighten the day of employees, clients and business associates and further your business's promotional efficacy with this trendy, custom-printed flashlight. Find out more about Cree LED lighting and order your customized CREE flashlights today.