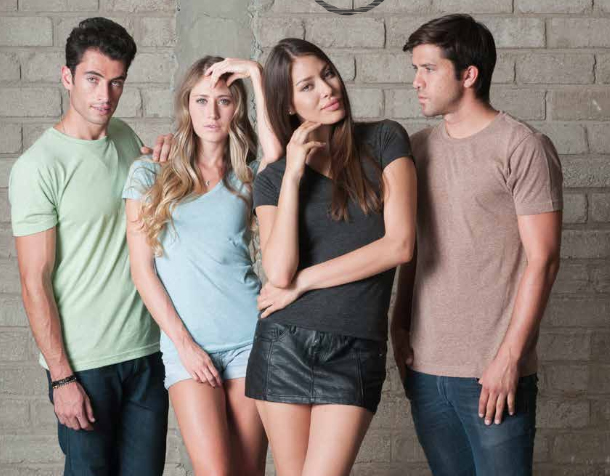 There is no reason to skimp on style while striving to be eco-friendly. Surprise, colleagues, clients and business associates with fashion-forward apparel made from recycled products. Hundreds of thousands of plastic bottles and other plastic products can now be saved from landfills (80% of all water bottles end up in landfills) to create awesome, custom printed or embroidered hoodies, T-shirts and sweatshirts.
These screen printed tees and hoodies are made of 100% recycled products. There aren't even any dyes added – the fabric colors are created from the color of the recycled product.  For example, the grey colored shirts and hoodies get their color from the X-Rays that they are made from – hence the color named X-Ray Grey. The green color comes from green plastic bottles, the brown from brown plastic bottles, etc.
Stylish and fashionable recycled promotional logo printed t-shirts for men and women – unique eco-friendly business gifts!
Businesses which show their support for sustainability are popular with customers and employees alike. Use these T-shirts with custom logos to promote your company as an environmentally-friendly corporation and build up your customer base quicker than the speed of light.
Nothing says "company loyalty" like an embroidered hoody with the company logo printed on the front. When you gift your employees with a unique keepsake such as this, it serves as a reminder to be environmentally conscious. It also instills a strong sense of pride in the company and its effort to reduce environmental wastefulness.
For such unique apparel, these sweatshirts and tees are very reasonably priced. They leave a small environmental imprint, but also a barely noticeable dent in your wallet. You can easily give each employee a custom-printed hoodie with your company's logo on it and stay within your budget for the occasion. Nothing beats a unique, practical gift when its price tag is agreeable as well.
Click here to learn more about these hoodies, sweatshirts and tees made from 100% recycled materials.