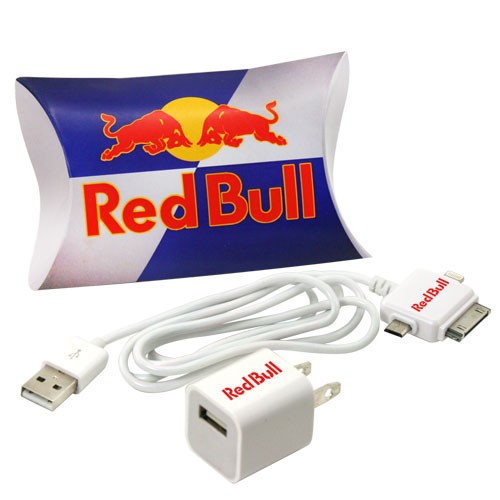 The Flamingo A/C Charger and USB Cord in a pillow box is a great giveaway or promotional item for trade shows or conventions. This box is perfect for anyone who wants to put their logo out there for brand recognition. The box features your logo, inside there is a USB charger which can be used with a variety of products, and the wall plug.
This charger in a box would also work well for promotional giveaways and employees or clients who travel often. This would fit well in a travel back or purse.
The cord works with iPhone, iPad, Blackberry, Samsung and Android phones. It will charge some brands of digital cameras too. The cord contains a micro USB, Apple lightening connector and Apple 30 pin connector. It also features the wall plug itself, that the USB would plug into to get its power.
This is an excellent gift for your client or employee who is on the go or who frequently travels. Whether for business or personal use, this would be a gift they would remember. The items are enclosed in the pillow box, which can be closed to prevent the cords from being loose in the luggage or bag. This is perfect because no one likes chargers and cords floating around their handbag or luggage. This is sure to be a hit, everyone will love this and since your logo will be printed on the pillow box, cord and charger they will never forget who gave it to them.
Your logo can be placed on the entire cover of the box, the cord and the charger. The printing area of the box is 3.13 inches long, 4.50 inches wide. The charger size is .50 inches wide and .75 inches high. The cord is .63 inches wide and .75 inches long.
Click here to view additional product details and ordering information.