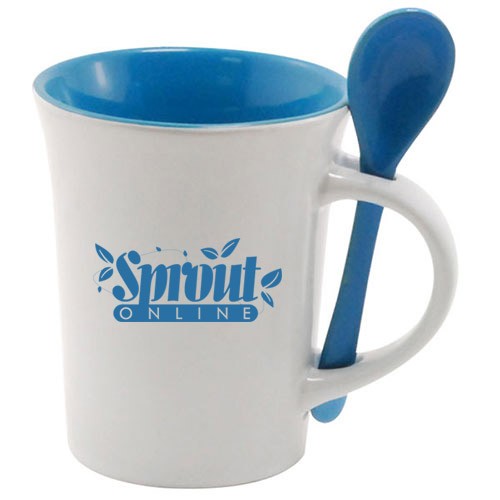 For the best promotional mug that you can customize with a logo the Brubeck Coffee Mug with Matching Colored Spoon is the only choice. It makes a great corporate gift and a fun way to mark a company's anniversary. This 8 oz. mug is white but the inside of the mug as well as the spoon can be red, black, blue, lime, cobalt or orange. With so many choices, you can get the perfect item in the perfect color to give as a gift to your employees or give away to customers or clients.
Many people can't make it through the day without having their morning cup of coffee. For those people, the Brubeck Coffee Mug with Matching Colored Spoon is the perfect gift choice. This item is suitable for coffee and tea drinkers of all ages. And with many color combinations to choose from it is easy to turn this into a custom gift that the recipient will know you put thought into.
Logo branded coffee mug with spoon – combo promotional giveaway gifts with personalized business branding for advertising and events promotion.
Kids love this mug because the colorful spoons can make breakfast the best meal of the day. The Brubeck Coffee Mug can easily be used by children who want to enjoy some hot chocolate in a fun mug. Say goodbye to boring coffee mugs when you purchase the Brubeck Coffee Mug.
Schools and organizations love this coffee mug because they can have their school mascot or the organization's logo printed on the mug. Giving these coffee mugs out can be a fun and interesting way to advertise any business. They can be used as prizes in raffles or as a souvenir of a special event, such as a school dance or sports game. The Brubeck Coffee Mug is the perfect companion for those who want to drink coffee in style.
Click here to view product ordering information.
To view additional promotional mug ideas, click here.