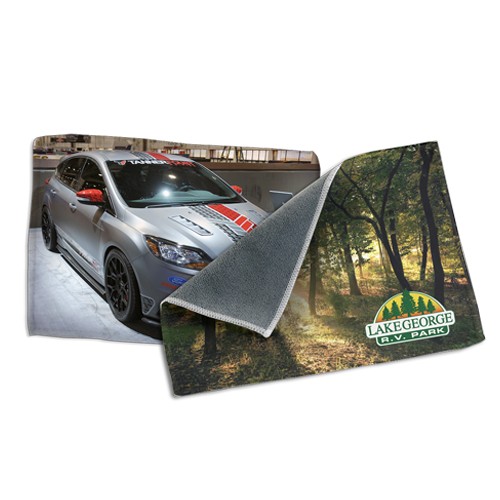 Most businesses are constantly searching out ways to promote their services for a nominal price, and yours is likely no different. These custom-printable Raven Dual-sided Microfiber cloths are the perfect way to promote your business for  a fraction of the cost of a traditional ad campaign. Microfiber cloths are useful to most individuals. They are practical for anyone who owns a smart phone, computer monitor or a pair of glasses. They clean glass surfaces pristinely without leaving marks or scratches, therefore, they are kept within easy reach.
Give a custom-printed promotional cloth to each of your business associates and anyone you network with to remind them of the services your business provides. Your logo will look sophisticated  and appealing, and each time the  deluxe cloth is used, the recipient will be reminded of your services.
This double sided Microfiber cleaning cloth is unique; it is plus on one side and silky-smooth on the other. Its premium Microfiber material is bound to last and remain durable for a long period of time. Your custom-printed logo, which can be displayed in full color, will not fade from any of these deluxe cloths. This ensures that your logo may be seen by third parties, as their recipients may feel inclined to display their fine quality.
Spread the word about your services and show your associates your company's appreciation with an inexpensive yet practical gift. There is enough room for customization and freedom of design with these custom-printed Microfiber cloths that they can be an appropriate gift for a business in any industry. Order your bulk package of Raven Dual-Sided Microfiber cloths and have them in time for your next business gathering or promotional party.
Click here to start marketing your business with these practical dual-sided cloths today.