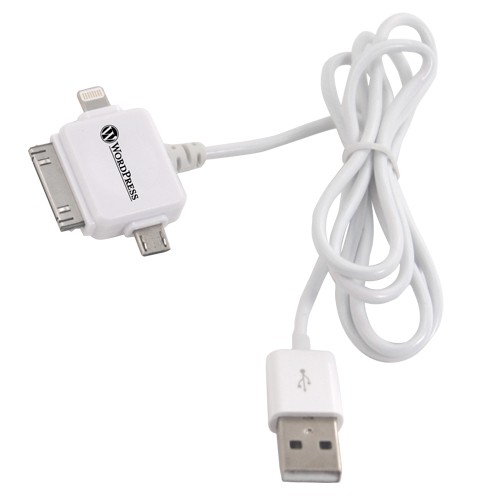 The Logo Personalized Robin USB Cord makes the ideal promotional technology gadget item for awareness events, trade show giveaways, event giveaways and marketing and giveaway ideas.  In addition, the USB cord makes a great tech giveaway item.  This is also the perfect gift for anyone these days that has an electronic device.
This Robin USB Cord works with most electronic devices include the iPhone 4 and 5, iPad, Blackberry phones and Android phones.  The cord contains a micro USB, Apple 30 pin connector and Apple lightning connector.  The cord is white in color and made from rubber materials and measures 1 1/2″ in width and 40″ in length.
Choose from a variety of imprint colors to showcase your business name or logo.  Color choices include black, white, reflex blue, teal, dark green, brown, silver, orange, pink, yellow, red and bronze, just to name a few.  The Robin USB Cord can be custom imprinted with your business name or logo and is done with color silk screen.
The Robin USB Cord is ideal for business travelers.  The majority of folks who travel for business purposes will most likely often use their tablet or cell phone.  However, this cord will greatly benefit them since they can constantly keep their device plugged in and will not have to worry about the battery life of their device.
This cord is also ideal for mobile and electronic device users.  It makes things more convenient for them to be able to plug the USB cord into their mobile or electronic device and then connect the other end into a wall outlet.
This USB cord can be logo branded so that your customers will always see your name front and center on a daily basis.  This is a unique way to get your brand in front of a new target audience.
Click here to learn how to order this fantastic promotional, tech gadget accessory for your business.