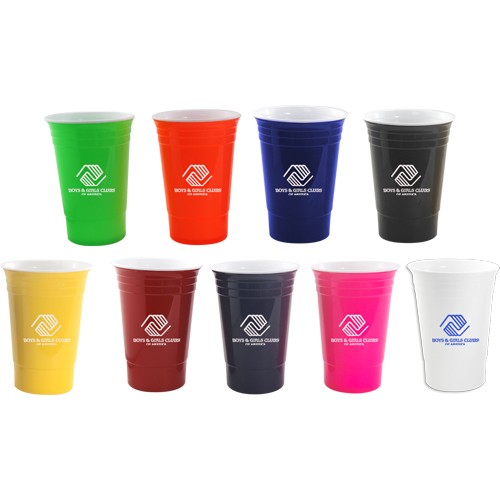 Have you ever noticed that the most festive party cups are all disposable and made of cheap, barely-there plastic?
This is no longer the case, thanks to the Sioux Double-wall party cup. This non-disposable party cup can be custom-printed with your unique logo and gifted to business associates as a souvenir or as a promotional product.
Ensure that your colleagues drink their chosen beverage in style with your logo always in sight. This well-insulated custom-printed party cup is sure to become every recipient's fast favorite.  It can be included in a goodie bag as a favor at a marketing party. Its unique, double-wall design is not one that is easily forgotten, and its durability is evident with every refill of the user's favorite beverage.
Toby Keith's song Red Solo Cup helped to propel this ubiquitous party cup into an uber-cool pop culture icon.  Boost your promotions by gifting this cup in a color of your choice. This nondisposable custom-printed party cup can be ordered in navy blue, neon lime, neon pink, red, neon orange, royal blue, smoke, white, yellow and black. With so many colors to choose from, you are guaranteed to find just the perfect hue for your specific occasion.
This 5 3/8″ H x 3 3/4″ D custom-printed party cup has the capacity of sixteen ounces. It is not only a valuable marketing product but also a practical gift. With its sizable capacity, partygoers need not worry about chasing after too-frequent refills. They will drink from this branded cup while spreading the word about your business without consciously making a promotional statement.
Use this custom-brandable party cup to enhance your business's persona and sophistication. encourage practicality and provide durability in the form of a beverage container.
Click here to get your custom-printed Sioux Double-wall party cups today.