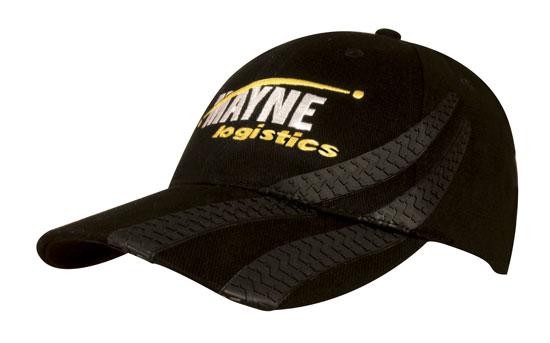 A fashionable promotional logo hat made of quality material is usually well-received by most individuals.
If the hat features a printed tire track design in addition to a well-placed custom business logo, it becomes even more desirable by those who wish to be affiliated with that business.
This brushed cotton promotional hat featuring tire tracks across the brim and over its top is a perfect item for promoting a business related to the automotive industry. Give it away at automotive conventions or car shows, or distribute it at construction sites and auto body shops in order to spread the word about your business. Your logo can be neatly imprinted on the hat in a place where it is clearly visible and adds to its visual appeal.
This custom-printed hat is made of quality heavy cotton. It is designed to protect the head and face from sun damage or cold winds. Though it is not a winter hat, this potential promotional freebie can retain a degree of warmth when worn, making it useful in cooler weather. This hat can especially come in handy to a person who spends a lot of time outdoors and who is exposed to a varying degree of elements year-round.
Any automotive enthusiast would appreciate this well-made, embroidered hat, so feel free to order enough of them to give several to each person. If the recipient is impressed with the quality and design of the hat, he is likely to give any extra ones to his friends or other associates in his industry. This ensures that your logo is shared once more and your business is further promoted.
Whether yours is a tire company or any other business within the automotive industry, it can surely use a boost in terms of promotion. Free or very affordable promotional tools are the best advertising vehicles. Purchase your brushed heavy cotton hats today.