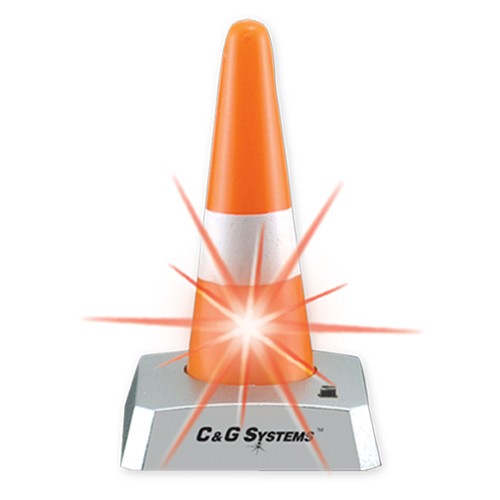 When a business caters to a specific niche or target market, promoting it with relatable items is very effective in gaining a stable customer base. This customized mini blinking traffic cone is the perfect promotional item for businesses and organizations in the transportation niche.
This custom-printed promotional traffic cone features four possible imprint areas, so it can be customized exactly to your liking. It can carry a message of traffic safety, for instance, or be imprinted simply with your logo or company name.
What ever the service or message, you are guaranteed to be able to get it across effectively and in a unique manner.
This  branded traffic cone can certainly be categorized as a unique novelty item. Though it is not a toy nor does it really provide any form of entertainment, its size allows it to be a small desktop item. Its colors stand out boldly, with an orange cone impaled upon a silver base. The cone features a red on-off switch to trigger the blinking light.
If the recipients of your promotional custom-printed gift put the cone on display in their office cubicals, their coleagues and customers are likely to see it an notice your imprinted logo. This is bound to increase your business's visibility, a likelihood that will lead to an increase in your customer base.
Employing the use of these  customized branded traffic cones in your promotional campaign is a great form of affordable advertising. Purchase these blinking desktop cones in bulk today, and watch your promotional campaign pay for itself in no time.
Click here to learn how to order these blinking mini traffic cones for your organization today.