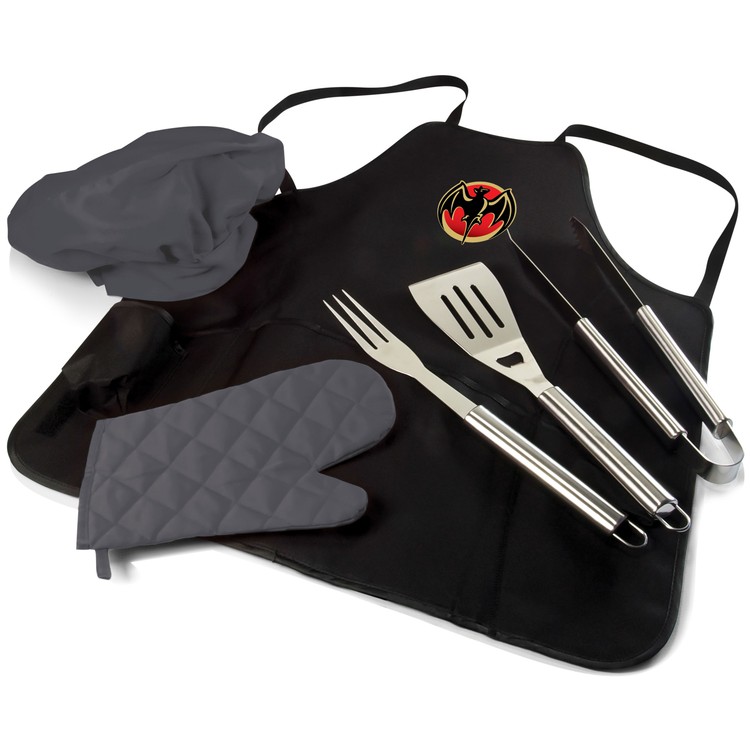 This BBQ Apron Tote Pro and Tool Set branded with your company logo will make the ideal outdoor promotional gift for your next spring, summer or even fall getaway.  It makes the most useful gift to provide to employees or clients.
This BBQ set is ideal for your next company BBQ, outdoor enthusiasts or grilling fanatics.  It also makes a unique gift for an outdoor giveaway, BBQ themed giveaway or as a holiday present.
This custom branded BBQ gift set makes a great promotional item to hand out to customers as a great way of saying thank you for the years of patronage they have given the company.  Your customers will be delighted to receive the barbecue set because it is something they can use on a regular basis.
The BBQ Apron Tote Pro and Tool Set is conveniently easy to carry around while folks are tending to their backyard BBQ and it comes with everything they will need for an outdoor BBQ.  This means that there is no need for them to keep running in and out of the house to get BBQ implements.
This cool BBQ set also works well as a fundraiser idea.  They can be ordered ahead of time and sold pretty much anywhere such as an office, sidewalk vendor or store front.  In addition, you have the ability to select to collect orders for the BBQ tool sets by collecting orders first.
The apron and tool set comes complete with a full sized apron which folds into a cool looking BBQ tote that has a comfortable shoulder strap which makes for easy carrying.  Also included is a three piece tool set which has a BBQ fork, tongs and spatula along with a BBQ mitt and chef's hat.  The BBQ Apron Tote Pro and Tool Set are made from polyester canvas.
Click here to view additional product information and learn how you can customize this set for your business today.