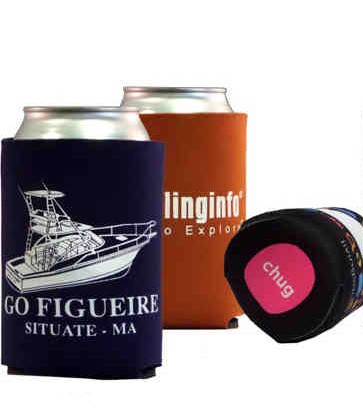 Have you ever been out at a ball game or business conference, wishing you had some sort of portable cooler to insulate your beverage and keep it at its ideal temperature? If so, your sentiments are echoed by millions of people, many of whom may be your potential customers or business associates. The Cool-apsible Foam Pocket Insulator is an innovative product that acts as a beverage holder and cooler anywhere at any time. It can be easily stowed away in someone's pocket, brought to business meetings, social outings–anywhere a beverage is able to be consumed. Now, these Cool-apsible foam beverage holders can be custom-branded with your unique company logo and given away as a practical freebie.
When you choose to brand customizable promotional products with your business logo, making sure the product is practical and creative is a big plus for your marketing campaign. Your company will be well-respected by the associates and employees who receive such a gift; they will recognize that innovation and practicality is a high priority for your business.
These beverage insulators make handy promotional gift items. Made of durable, high-quality foam, these insulators are capable of keeping a beverage cool in the hottest of places. Easily foldable, these insulators can be stored in the recipients; pockets, then pulled out and used as necessary. In addition to being a sleeve for the can or cup in need of insulation, each of these beverage holders is equipped with a base, making it a suitable coaster as well.
Make your promotional gift matter not only to your business but also to those who receive it. Practicality enhances your business's reputation and visibility, so order these branded Cool-Apsible insulators in bulk today. They are convenient and easy to store, so keep them on hand for each time you wish to increase your company's marketing and visibility.
Click here to learn how you can order these foam cozies for your next promotion or event.