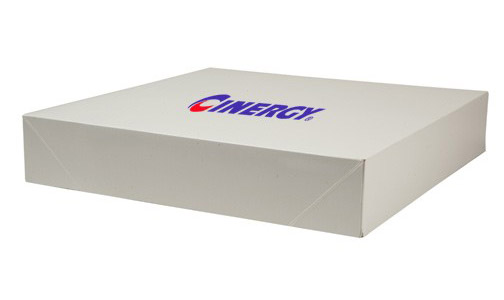 Sometimes, the way a gift is presented matters just as much as the gift itself. Every year companies and manufacturers spend millions of dollars on packaging alone. Here is your chance to use quality gift boxes to promote your business. These custom-printed white alligator apparel boxes are presentable and they exude quality. Your logo cannot be presented and promoted in a more unique manner.
It is a myth that all packaging items are automatically thrown away when the products inside are unpacked. These customized apparel boxes are guaranteed to be admired and even kept by the recipients of your gift. Their quality construction is hard to miss. More importantly, once your imprinted logo is seen and recognized, it will not be forgotten, and the fact that the box was customized will not be lost on the recipient.
Branding quality packaging with your logo sets you apart from your competition. Even if these apparel boxes hold non-branded gifts inside of them, they alone will make an impression on the recipient, and your business will earn their respect in the long run. This is especially true due to the fact that these white alligator apparel boxes are made to last and can easily be reused. Made with a combination of clay-coated newsback as the interior and a heavy white gloss board as the exterior, these boxes aren't designed to be ripped up and thrown away instantly. They are pop-up boxes; they can be flattened neatly and easily and reassembled within seconds for further use.
Click here to purchase your customized White Alligator apparel boxes in bulk today. You can gift luxury clothing retail items and use them to further enhance your business's visibility within your industry and among potential customers. Store these boxes conveniently in a compact manner and use them to promote your business when the occasion strikes.