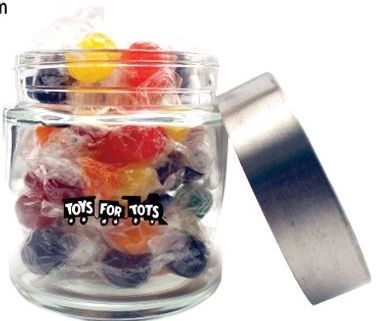 One of the most practical promotional items is a stainless steel round glass jar.
A promotional glass jar with stainless steel lid can be used for many things including storing candies, buttons, coins, beads, jewelry, ribbons, string and yarn.  Also, these logo customized round glass jars can be used for adding the perfect touch to a summer table when flowers are added to the jar.
You can also add printed labels and add bath accessories such as bubble bath and bath salts. Other uses include using them in the kitchen to store things like corkscrew pasta, spices, sugar, beans and coffee.
Promotional products are used to promote a company, event, corporate image or brand. With glass jars, they can imprinted with your company name, slogan or logo. The label can be printed in your choices of colors such as yellow, black, white, blue, orange, red and gold.
A custom printed candy jar with metal lid is ideal for any event or occasion such as volunteer programs, community events, fundraising campaigns, trade shows, conferences, corporate anniversaries, loyalty marketing, prizes, incentives and publicity.
Glass jars can also be used in politics for promoting a candidates' campaign, in schools for a unique fundraising idea or for charities for raising awareness. In addition, promotional products of any type are often gathered by collectors.
It is important that you get your business name and either your website URL or company phone number in front of current customers as well as potential customers. For instance, if you have a new website, how is any one going to know it is there unless you let the public know you are online? The whole idea of promotional products is to not only get your company name out there but also as a constant reminder to customers to be aware of your company and brand.
Click here to learn how you can purchase these glass jars for your company or organization.