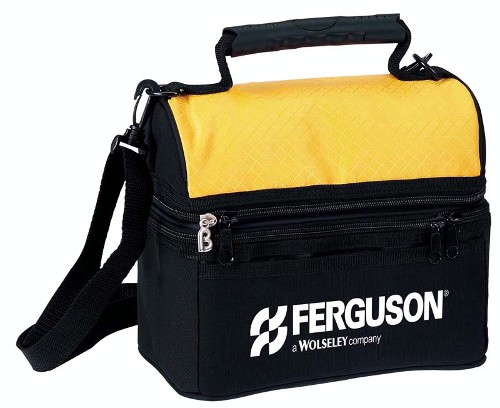 No matter what your job is or where you work, packing your lunch is a cheaper and healthier option than going out every day. Fast food isn't good for your wallet or waistline. Sometimes finding a lunch bag big enough for an adult is hard. But the Dual Compartment Cooler Bag is a great option.
The Obrero Dual Compartment Cooler Bag comes in 4 different colors and those include: Royal, Silver, Yellow, Black, Black with Red together. There are two compartments for your food and for your drink. This bag has a front pocket, a place to put your ID, and the strap is adjustable so it will fit you how you like it. The insulation on the inside is made of sturdy nylon.
Of course, since you are a company, putting your business logo on this personalized cooler bag is the perfect way to stand out. Whether these are used at company events such as picnics, or the employees use them to bring their lunch to work, everyone will see the brand and logo.
This would be great for employees, but also would work well for school fundraisers, and charities or other organizations that need to raise funds. This is a great way to get your charity out there and seen by others. Of course, this can be sold online and shipped, or put in a store or general location in your business/office so visitors can see it.
Those who receive this cooler bag can also find many uses for it in their personal time. Whether its tailgating, going to the park, or an amusement park, this cooler bag is the perfect size for keeping snacks and drinks cool for those day trips.
This custom branded insulated lunch bag is 9.25 inches by 8 inches by 6 inches. They weigh only 1.35 pounds on their own.  It can be embroidered or can have silkscreen, the choice is yours. You can also order these cooler bags without any printing.
Click here to learn how to order these insulated cooler bags for your organization.