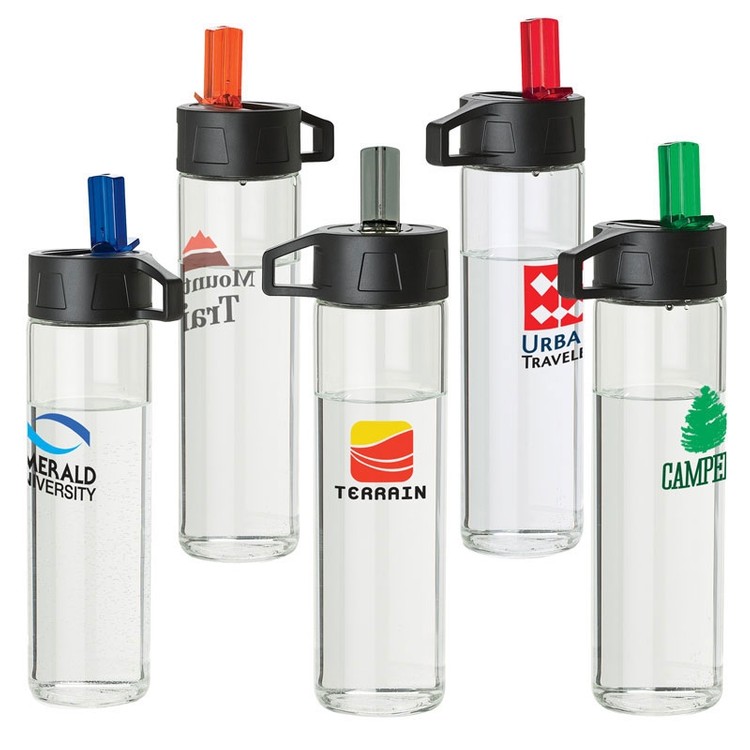 Having water in our bodies is an essential part of the human body. Human's needs 8 full glasses of water in an 8 ounce cup to keep our bodies going. Sometimes people work a lot and not in a place to where they can get all of the 8 glasses of water each day, so they take a water bottle with them. These days, many eco-conscience people are making the switch to all glass water bottles due to the fact they are environmentally friendly.
Having your own custom branded glass water bottle is practically a must having in today's world. You can promote your business with the logo printed on glass water bottle, creating multiple branding impressions each time the bottle is used.
This 18 oz. glass water bottle comes in 5 different colors of your choosing. The colors are on the straws, and they come in black, blue, orange, red and green. These glass water bottles has a carry handle loop, straw and a flip-up drinking spout. If you are a walker or a runner, you can tie a string to the handle loop and keep hold of your water bottle without having to worry if you are going to drop it or not.
These glass water bottles are a great business gift to give to your co workers during the holidays. You can custom design the water bottle with a logo or other custom graphics, making them a great corporate gift idea.
Click here to learn more about these glass water bottles and how you can order some for your business.