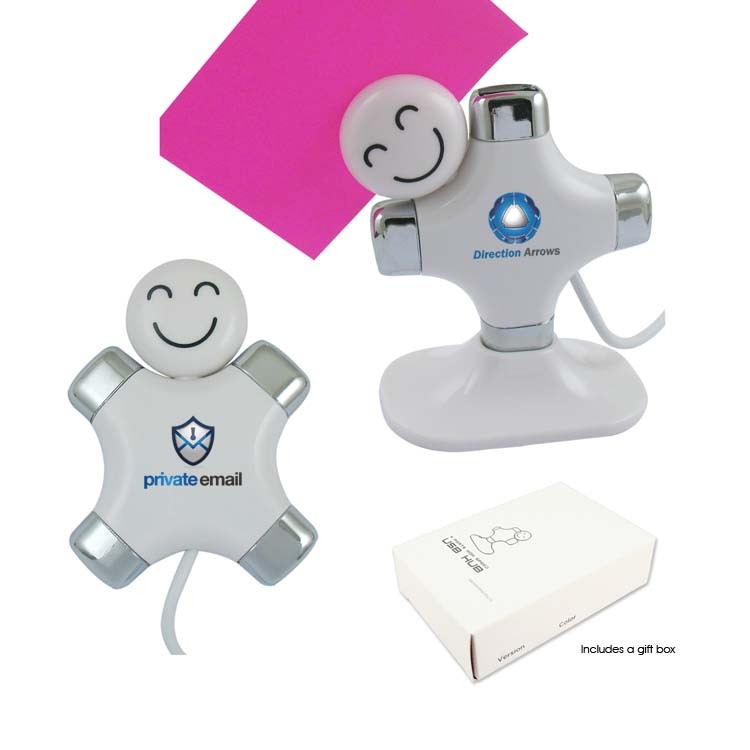 Any tech lover will appreciate this four port USB hub. Not only is it practical, its fun to look at! This is a great gift for any office, social media giveaway or even a fundraiser. Anyone who receives it will appreciate it.
This is a practical gift for any office setting where multiple USB devises are used. Anyone who has unplugged one USB device to get another one to work will understand, and appreciate this little guy.  It can make the work day a big brighter with its smile, and anyone who sees it is sure to compliment on it.
Smiley multiple port usb hub with custom logo branding – A technology and computer giveaway accessory for business advertising.
The USB hub is a great gift for a social media giveaway. Its small, which makes it perfect for shipping easily to customers via the United States Postal Service. With your logo printed on it, every time the customer uses this they will think of your company! With this always sitting on your customers desk, they will always think of you when they need your products or services.
The USB hub accepts 2.0 USB for flash drives and MP3 or SD readers. It works on Windows, Mac, and Red Hat Linux. The head can be used as a post it notes holder. It contains four female USB ports, one hub, one stand and one USB cable.
This four port USB hub is the perfect customized and branded tech gadget. The product size is 3 inches wide by 3 ¾ inches high. It is 1 ¾ in diameter. The price includes one color/one location printing. The imprint size for the port is 7/8 inches wide by 7/8 inches high. Imprint area for the stand is 7/8 inches wide by 3/8 inches high. You have several colors available for the imprinting. Everything from white, to pink, to metallic gold to black (metallic colors require an additional 10% item charge).
Click here for ordering information.