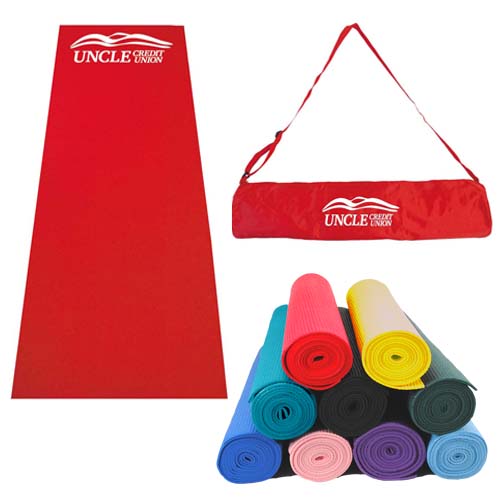 Health and fitness is a big concern among many. No matter what your business is, you can promote a healthy lifestyle by offering these full length yoga / exercise mats to your employees. They will love these if they currently do yoga or exercise regularly. This would go over really well if your business or office locations has a gym included for employees.
There are many uses for these customizable yoga mats. They can be given away at corporate events, given as gifts, sold in a lobby or gift store and even sold as a fundraiser for a charity or organization.
The custom logo printed yoga mats are also a great idea for gyms and health clubs. These can be sold to members, or even given to members when they sign up as a promotional item. Any user would surely enjoy these.This is an excellent way of branding your company with appropriate products that relate to your business.
There are many colors available for these mats, purple, teal, royal, black, red, yellow, pink, sky blue, burgandy, white, gray and orange. The yoga mats come in a convenient nylon carrying case with a strap and a small pocket. It is made from 4mm thick foam material, making them comfortable for use. The mats feature a strong inner net layer for durability. The mats are non-toxic foamed PVC with inner net layer.
You can personalize these mats with your company logo. Your logo can be imprinted with one color in one location. You can print in additional locations, but that requires an extra charge. Both the mat and the case are imprintable. The imprint area is 10 inches by 7 inches on the mat. The case imprint area is 5 inches by 3.5 inches.
Click here to view ordering information.