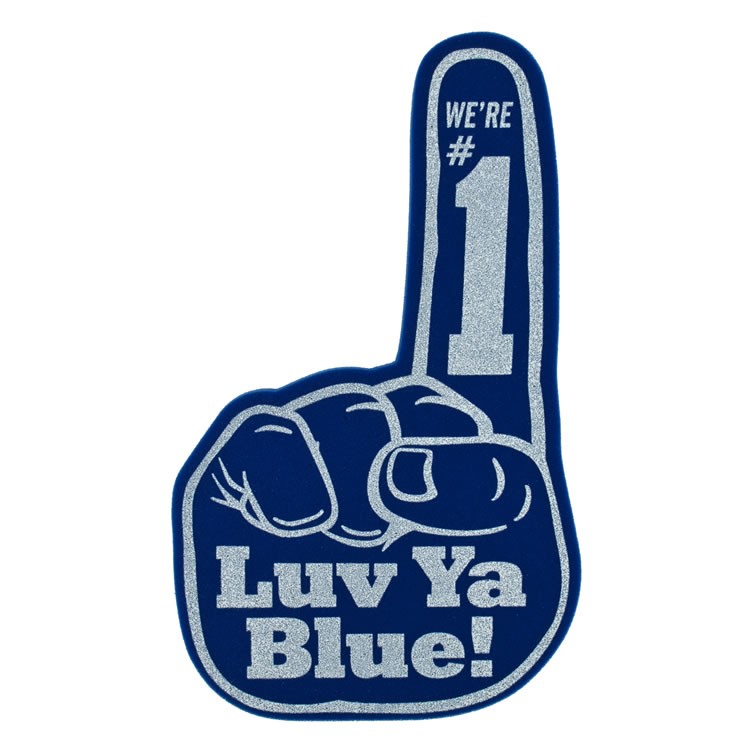 Who can object to a foam finger? No one, really. They are fun, humorous, they invoke an air of lightheartedness–and they're a great way to promote one's business. This is especially true if your business is related to the sports industry in any way.
These customizable logo foam hands are a great way to root for one's team, so pass them out to your business associates and anyone else you network with in order for them to root for your team–and become a part of it too.
These custom logo printed foam fingers are made of texturally-comfortable open-celled foam, featuring fun, bright colors and a wide variety of sports-related shapes. Your business associates will be able to fit them over their hands and have a great time sporting your logo or message on one or both sides of the hand.
Your marketing logo will be imprinted in water-proof ink, and you can choose the desired hue from a variety of colors. Your custom-printed foam hands can be produced in the following colors: royal Blue, Teal, White, Yellow, red, purple, navy blue, Columbia blue, lime green, dark green, awareness pink, black and brown.
Branding these foam fingers with your unique logo is a great way to increase your business's visibility and promote your services in an inexpensive manner. While more serious and more conventional advertising campaigns may be the rout you've chosen for your business before, these novelty promotional foam fingers may be more effective and more fun as well. Order your custom-imprinted foam hands in bulk today. Begin distributing them at every business function you attend, and watch your company flourish in terms of its name and customer base.
Click here for ordering information.