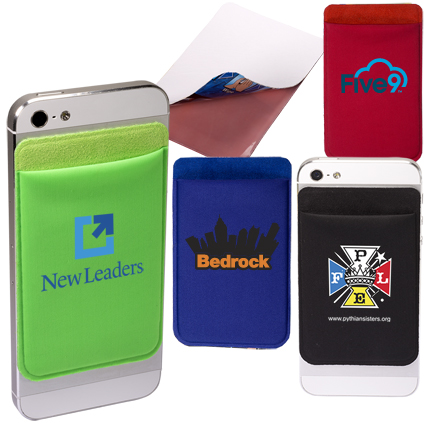 These custom phone pockets made from lycra are one of the hottest new phone accessories in the market today.
Unlike the silicone phone wallets, lycra is a fabric material that can stretch, allowing the flexibility needed to hold more credit cards, cash and other items than ever before.  The fabric feels like a cross between microfiber and neoprene.
These custom phone wallet are even flexible enough hold ear buds as shown in the image below.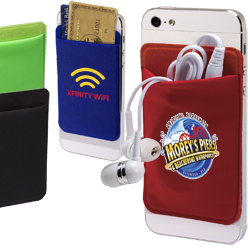 Another unique feature to these branded phone wallets is that the pocket almost fully conceals your credit cards, cash and other valuables.
Since these phone pockets are flat and lightweight, the are ideal for direct mail marketing, trade show giveaways and just about any type of promotion or marketing campaign.
Your company logo can be printed in single spot colors or there is also the option to print in full color.
This lycra phone pocket can be removed and used as a screen cleaner for your device and then easily re-attached.  The adhesive backing does not leave a sticky residue on your mobile device and can be easily re-positioned and even washed. Click here to learn more.