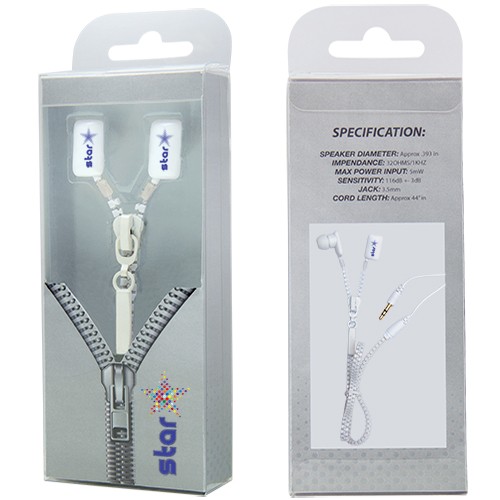 If you are considering what cool SWAG to order for your next promotion or event, consider this. Mobile phone accessories are current one of the hottest categories when it comes to promotional products and business gifts.
Most people are on their cell phones thorough the day, ever day.  So why not seize some of that valuable branding space with a fun phone gadget?
These promotional zipper ear buds made their retail debut last year and have recently started opening up some really cool custom-branding opportunities for businesses to promote their logos.
The cord of the ear buds acts as a zipper to zip the two ear bud cords together creating a zipper effect.  Not only does the zipper effect look cool, it's also quite functional if you are the type who doesn't like the ear bud cords floating around too freely.
A one-color logo is imprinted directly onto the ear buds and the packaging itself can be custom printed in full color.  These promotional zippered earbuds are an excellent gift or giveaway idea for events, conferences, trade shows, employee gifts and more.
Click here to view product ordering information.