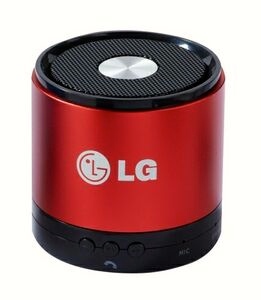 Are you looking for to put your company's logo on a wireless Bluetooth speaker? 
We're thrilled to introduce our new Bluetooth Multipurpose Speakers, a beautifully designed portable Bluetooth speaker with the same good looks you're used to with your modern mobile device. Whether you're listening to music, watching a movie, playing a game or catching up with a far-away friend, you'll have crisp clear, well-defined sound.
In today's world you need portable, light and compact. These wireless Bluetooth speakers let you effortlessly connect up to three devices at the same time through Bluetooth, so you can stream music and other audio from your computer, smartphone or tablet. Switching among devices is as easy as pressing Pause on one and pressing Play on another.
You can take these portable Bluetooth speakers with you anywhere! Take these solar powered Bluetooth speakers to the beach, to a game, barbeque, camping or even when you are out gardening! With the sleek compact design and environmentally friendly footprint, these speakers are perfect for you! Be proud to have your company's logo on such a smart promotional product.
Bluetooth Multipurpose Speakers are designed to work with almost any audio device. You can connect wirelessly to computers that don't have Bluetooth built in using the included USB transceiver and has an auxiliary jack for plugging in non-Bluetooth devices.
If you are in the market for portable wireless Bluetooth speakers you will want to check these out!
Topics included in this article include: