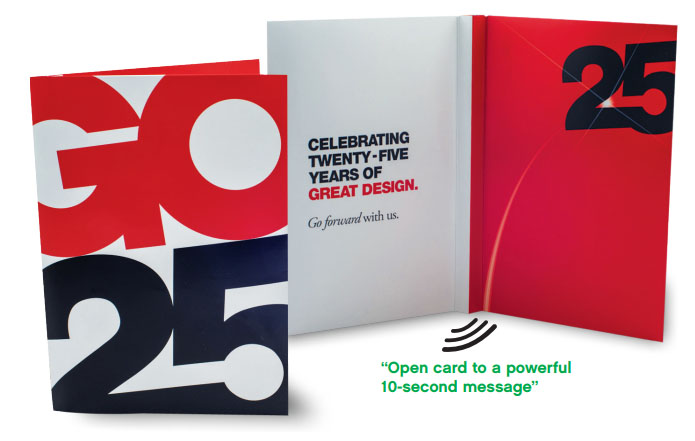 How can you announce your important company messages in an impactful manner via direct mail?
These full color, offset printed custom promotional sound cards play a custom 10-second sound or message when opened, grabbing the attention of the your direct mail audience.  You'll certainly impress them with your unique branding vehicle as well.
You can choose choose from a wide array of library sounds to get your message across (visit findsounds.com for additional sound snippets) Or use your own 10-second message or sound.  A custom voice over can also be created for you at no additional cost.  You can also use a combination of a voice over and sound to create the most idea effect for your direct mail announcement or campaign.
Choose from card sizes: 5″ x 7″, 5 1/2″ x 4 7/8″ or 5 1/4″ x 3 1/2″ (Closed).  Each card comes packaged in an envelope. Once you get your custom sounds cards, just place the appropriate postage on the envelopes along with address labels and you have a truly attention-grabbing marketing mailer for a reasonable cost per unit.
Click here for product ordering information or to request a free sample.