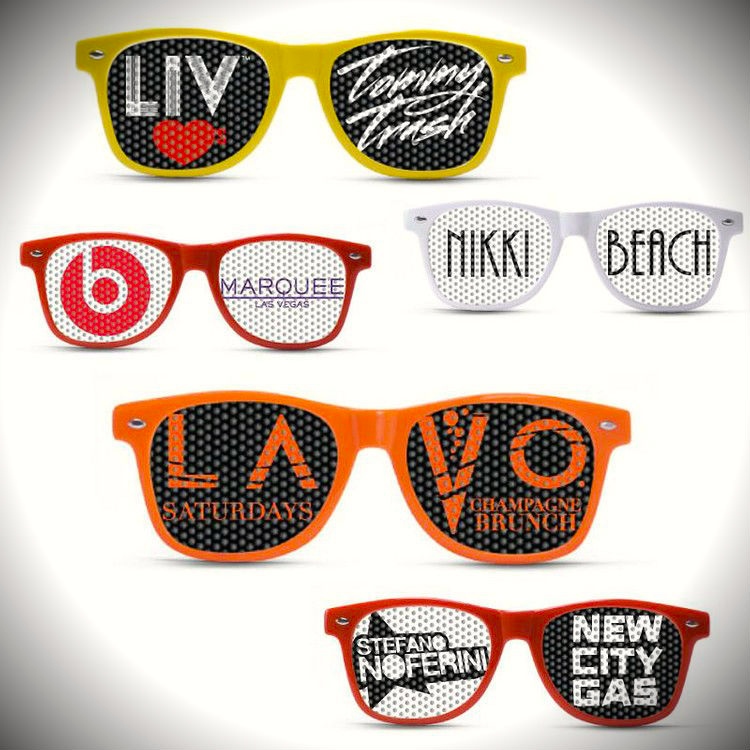 Our promotional custom sunglasses with custom logo lenses are perfect for a trade show, company summer event or party. Take advantage of social media! These custom printed promotional sunglasses offers the perfect platform for promoting your events and business by displaying your logo, artwork or messaging directly on your target audience, to be worn many times over.
Promotional Sunglasses Rock
Party-goers and event guests will not only wear these custom sunglasses with branded lenses at your event, but as they will be posting photos on social media sites while wearing these promotional sunglasses, spreading your message virally beyond your venue or initial event.
These custom sunglasses have fully customizable lenses for any person, company or event.  Images and Words are simply printed onto the lenses yet, while you wear the promotional sunglasses, your vision is not hindered at all!  This revolutionary product can bring warmth and fun to any occasion.
Custom Sunglasses are Perfect for Social Media
Custom sunglasses are meant for pictures to be posted on social media, expanding your brands reach to their network of friends! Are you having a company party?  Make retro glasses with your company logo on the lenses!  Getting married?  Make some glasses for the guests that have the bride and grooms names on the lenses!  Promoting a new business?  Add a simple slogan and logo written on the lenses of these custom sunglasses to advertise and promote your business!  The possibilities are endless!
You can add a unique promotional tool to your arsenal – promotional printed glasses with custom logos printed on their lenses. These custom sunglasses are sure to be a huge hit!
Creation of Custom Sunglasses
Our high quality custom sunglasses have printed pinholes on the lenses, offering a fun, unique look. One way see through. Our custom printed promotional pin hole logo lens sunglasses offer the perfect platform for companies, clubs, DJs, weddings and bands to spread there brand virally through social media by advertising directly on the target audience. These custom sunglasses are made to be worn, photographed and posted on the social media, seen many times over.
To learn more click here.
Topics included in this article include: