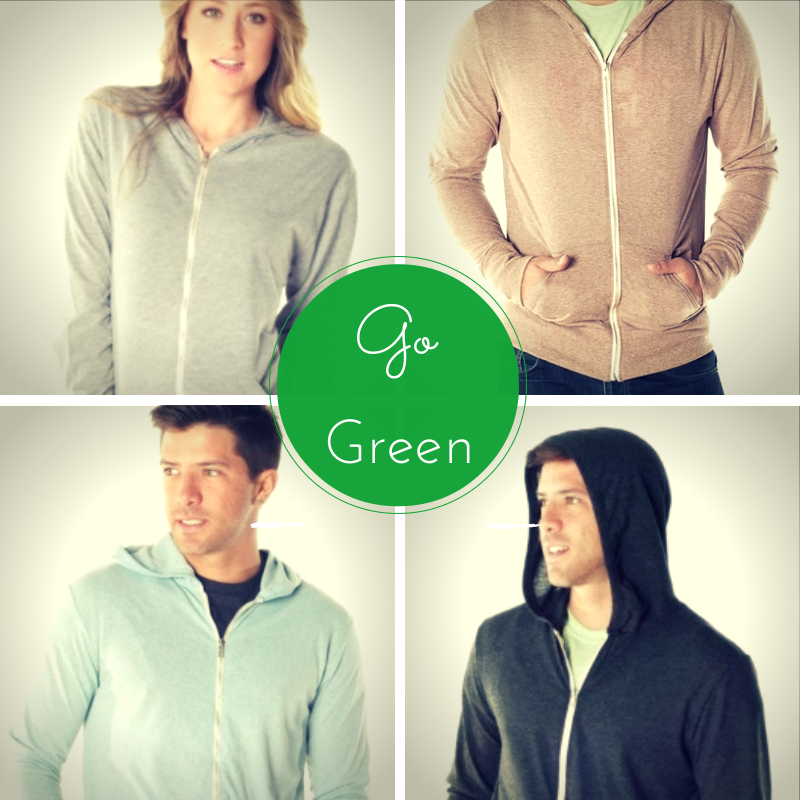 Green promotional items are all the rave! Give a give a gift that everyone loves and help save the planet at the same time! Each Recycled Bottle Unisex Jersey Hoodie saves the equivalent of 6.5 20oz plastic bottles from the landfill and 18 quarts of water by eliminating textile dyeing.
Recycled Clothing is a Fan Favorite
If you believe that contributing to a more sustainable environment is good business practice and the right thing to do for future generations. This is the gift for you to give.
These stylish Recycled Bottle Unisex Jersey Hoodies are made from a recycled fiber made from recycling plastic bottles. By using this material we are using less petroleum and emitting fewer greenhouse gasses, helping to conserve precious natural resources.
Demonstrate Positive Consumerism with Green Promotional Items
If are looking for green promotional items than you believe in promoting a 'positive consumerism' by sourcing sustainable products that are socially responsible, recycled and eco-friendly than this is the product for you! These Recycled Bottle Unisex Jersey Hoodie are the perfect promotional product for raising awareness of sustainable issues that are an equally important aspect of our business.
Our line up of recycled sweatshirts are a fan favorite. Plus, they're made with over 6 recycled bottles! (Yep, that's right…6 recycled plastic bottles)! That means that with each sweatshirt you are keeping 6 or more bottles out of landfills! This clothing is so comfortable and versatile that both the U.S. and Brazil soccer teams wore uniforms made of recycled soda bottles in the last World Cup!
Creation of Recycled Bottle Unisex Jersey Hoodie
All of the colors offered are derived from the color of the material we use to create the fiber.  This eliminates the need for the traditional textile dyeing process, eliminating dyes, saving water and energy. fiber. (Green is made from green soda bottles, brown is made from brown beer and root beer bottles (Yes, the plastic beer bottles you get at the ball game or race!), Blue is made from blue water bottles, Grey is madfrom X-ray films, and black is made from black food trays.
Our sweatshirt is recycled clothing is made from cotton we use is post industrial waste and the recycled polyester we use is a combination of post consumer and post industrial waste. We firmly believe that sustainable products can be beautiful, desirable and functional, and that shopping for ethical, environmentally sensitive goods shouldn't involve compromising your wants and needs.
These unixex 4.5 oz. jersey fabric, full-zip hoodies are not only great looking & super-soft, they are also highly eco-conscience. Made from high-quality, ring-spun yarns produced with recycled polyester fibers, made from plastic bottles, discarded X-Ray film, and recycled cotton, to produce 100-percent-recycled apparel. No dyes added.
Green promotional items allow you to make a positive impact on the world with your brand.
Click

here

to learn more.