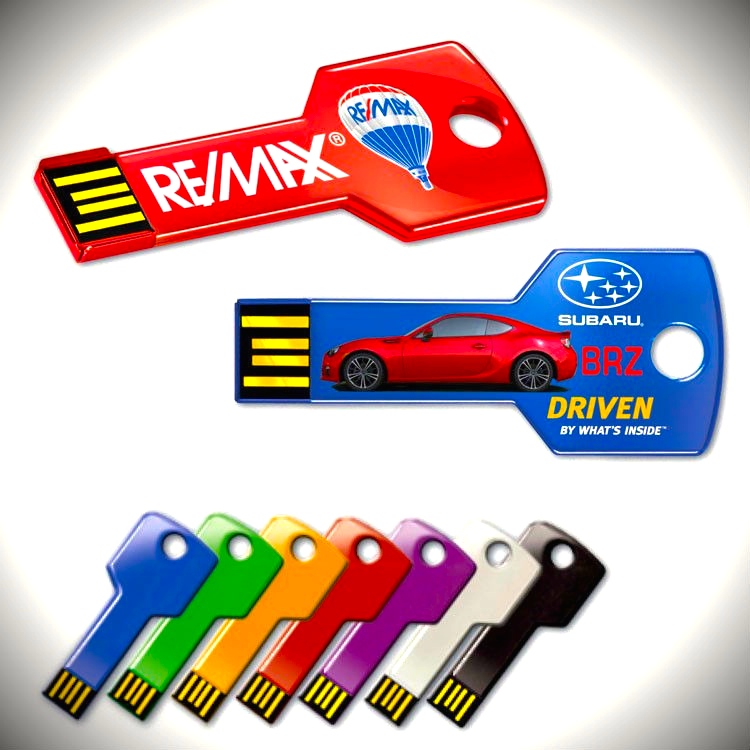 Custom USB flash drives—aka memory sticks —are handy little storage devices that allow you to pass information to your customers quickly and efficiently. They're way more convenient than handing over wad of papers.
Plus, our USB 2.0 Key Drive is about the size a house key, which means they're perfect for stuffing in a pocket or bag. Wherever your customers take them, promotional USB flash drives are up to the task. They can be dropped, jostled or trampled without sustaining internal damage.
How can a USB 2.0 Key Drive be used as a promotional tool? Our custom USB flash drive can be used in a number of creative ways, but they're ideal for trade shows and conventions. Rather than distributing a boatload of papers and forms, hand your customers a promotional USB flash drive. Your content gets presented exactly as you want it, and your logo gets seen with every use.
When you dole out custom USB flash drives, you're making life easier for your customers. They aren't bogged down with papers that can get lost—everything they need is right on the USB drive, whether you load it with training materials, company information, catalogs or sales materials.
The USB 2.0 Key Drive will stand out amongst the crowd of USB drives at any convention. It's ultra-thin stainless steel case is both, PC and MAC compatible. These hot promotional gifts are perfect for your brand!
It's smart, easy marketing. Would you like to learn more about how to use this smart, trendy promotional USB flash drive for your business? Click here.