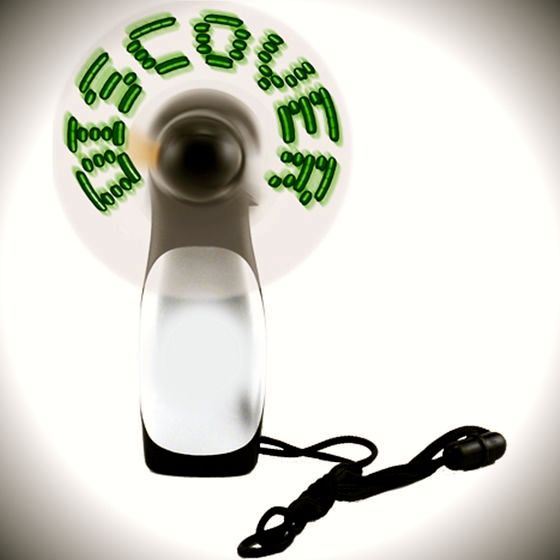 Want to promote your company, brand or team? Have an event that needs a one-of-a-kind promotional item? Our LED Programmable Fans are the perfect promotional item for any hot summer day.
You'll be the hot ticket at any summer event with a handheld Programmable Lighted Message Fan! Your promotion will be attention grabbing at any party, game or festivity with our Programmable LED Message Pocket Fan in hand! Beat the heat and inspire the crowd with your own whirling colorful message! This LED message fan will let you broadcast loud and clear in gorgeous color whatever it is you want to say. Cheer on your team at sporting events, express yourself at concerts and fundraisers, or let everyone know what's on your mind at your favorite nightclub!
Our LED Programmable Fans allow you to store 6 separate totally unique messages and each message can contain up to 16 characters. So very easy to program, our LED Programmable Fans lets you simply use the buttons on the side of the fan to rotate through the entire alphabet and choose the letters you wish to use to deliver your thoughts! Once you are finished entering your message, the fan will spin and flash your chosen message with bright red LED lights for all to see!
Each handheld fan is programmed with 6 different messages, up to 18 characters each so all you have to do is add your logo and you are good to go!
The high capacity fan motor has an easy changeable removable battery cartridge and is available in an assortment of faceplate colors and LED colors. We also offer a convenient breakaway necklace for anyone on the go. Add this cool message fan to your next office event, fundraiser, fair or party!
Click here to learn more.