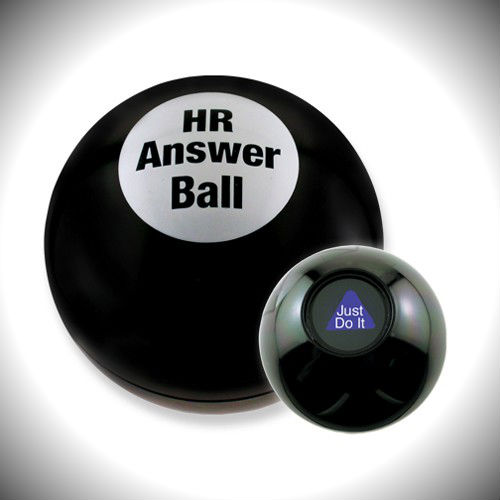 Looking for fun promotional products? Have you considered a branded fortune ball? A goal for businesses, big and small, is often brand recognition. How can you make your brand not only stand out from the competition, but also remain in the minds of customers, both current and potential? One way is to get creative with your marketing. Fun promotional products are simple tools that can help increase brand awareness for your small business; by customizing an item that a customer can use in his or her everyday life with your logo, for instance, you're able to keep your small business top of mind.
The fortune ball is a fun promotional item for all your client's decision-making! Ask the fortune ball a question; turn it over and one of the 20 possible answers appear in the window. Fortune ball stock answers include: Yes, No doubt about it, Absolutely, The stars say no, So it shall be, Indications say yes, Unlikely, Positively, Answer unclear ask again, Don't be on it, Looks like yes, Chances aren't good, Focus and ask again, Can't say now, Prospect good, No, Very likely, Cannot foretell now, Consult me later, You can count on it.
When you hand out fun promotional products, you might wonder: Do people actually use them? Absolutely they do. They use them as décor, as office decoration or a stress reliever to break up the day. Everyone one loves fortune balls and it's usually kept on your customer's desk as part of the decor. Remember, the desk is valuable promotional real estate and you have the chance to have your brand-displayed on it permanently. Think about what fun items your customers will want to keep around.
Consider this statistic: of the people surveyed, 52% said their impression of a company is more positive after receiving a promotional product from them, and nearly 50% use those products daily. How did your last marketing tactic stack up against those numbers?
The fortune ball is a fun and entertaining promotional product that offers answers to all of your customer's burning questions. Click here to learn more.