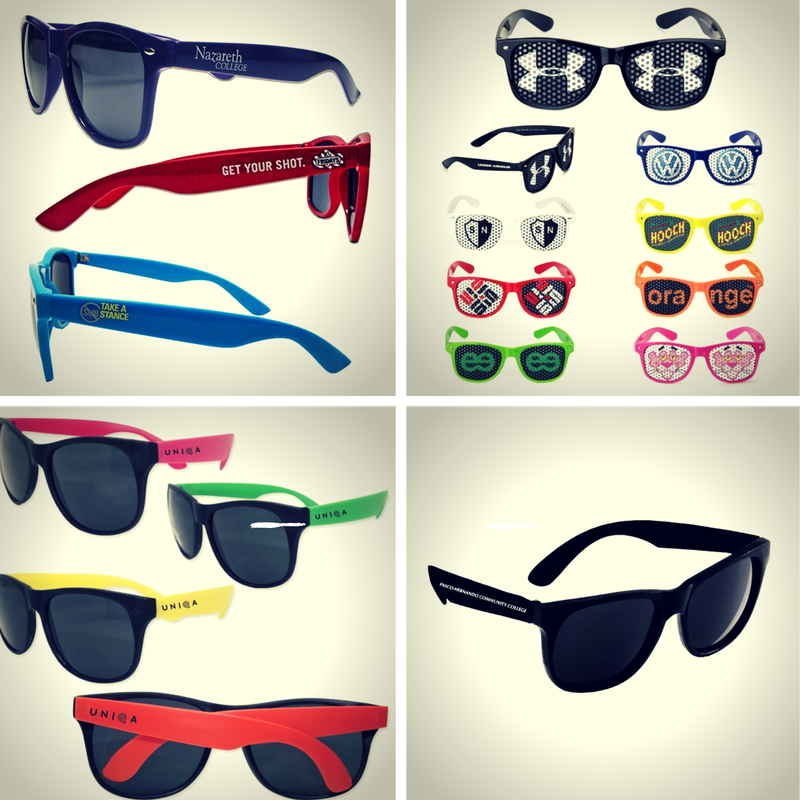 We've had lots to say about promotional sunglasses on the Brand Spirit blog lately, and as summer kicks off, the timing couldn't be better to tell you about a variety of our different kinds of shades!
These custom promotional sunglasses are awesome promo giveaways—no doubt pool-party must-haves—set the stage for attendees to "drink, party and promote," which, incidentally, will happen at your themed event. Each pair of custom printed sunglasses can be customized with your brand, company or a themed tagline for your promotion.
Classic Sunglasses – Assorted Colors – Print your logo or message on them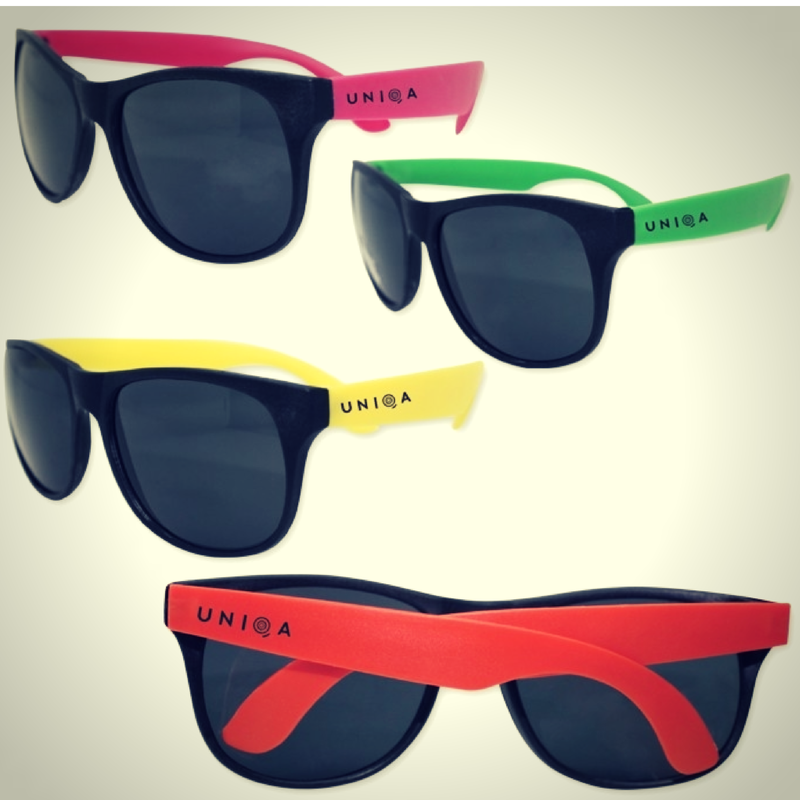 The personalized Classic Sunglasses sport the retro 80′s look, at a very 80′s price. The colors are bold and neon, giving you plenty of choices when it comes to deciding what hue to choose.
Kick off your next marketing campaign in style with these trendy sunglasses! You don't have to invite us to a pool party twice—especially one that's stocked with promotional sunglasses. Pool + promo products = a guaranteed good time.
A great pair of shades is a must! Our UV400 protection sunglasses come in an assortment of four vibrant colors! One size fits most adults.
Custom Sunglasses – Ideal gift for music events and summer promotion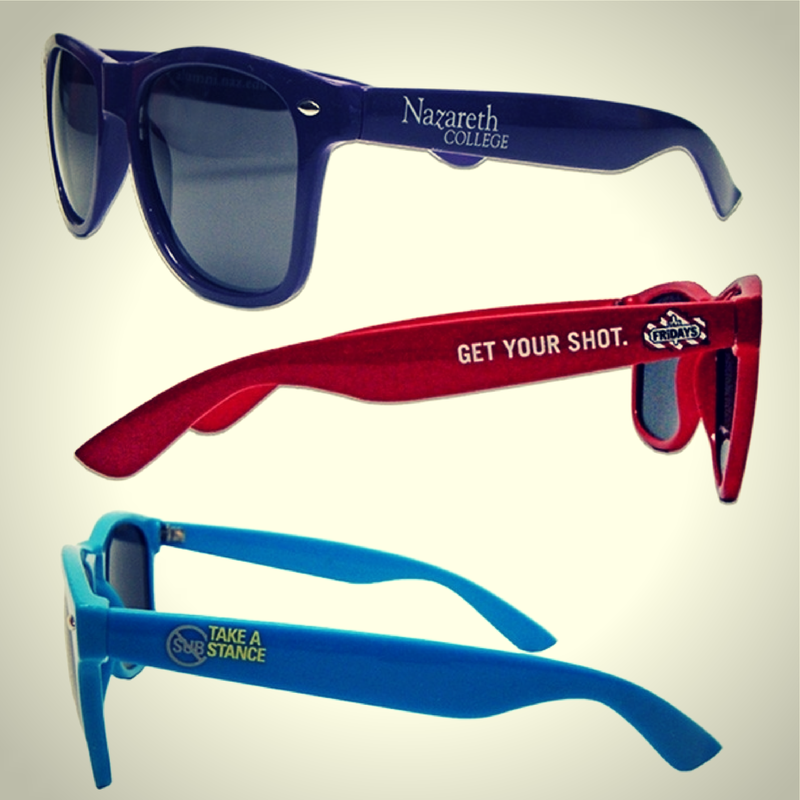 The famous custom sunglasses are the style that is sported by the famous celebs, we offer the star-worthy Risky Business sunglasses in a variety of colors. Your business name will become attached to the style on the imprinted earpiece.
Sunglasses are one of the most distinguishing, sought-after accessories in the fashion world. Some signature styles have even become part of famous style icons' looks. Everyone knows what Risky Business, Jackie O, and John Lennon sunglasses look like, right?
The hottest promotional product on the market just got better. These custom sunglasses are offered in tens of thousands of colors so you can get an exact match. Print complex logos in multiple colors for no additional charge. Made with metal hinges and high quality recycled plastic, these sunglasses are stylish and sturdy. Perfect for parties, sporting events, universities, corporate events, and promos.
Personalized Neon Sunglasses – Carry your brand message in style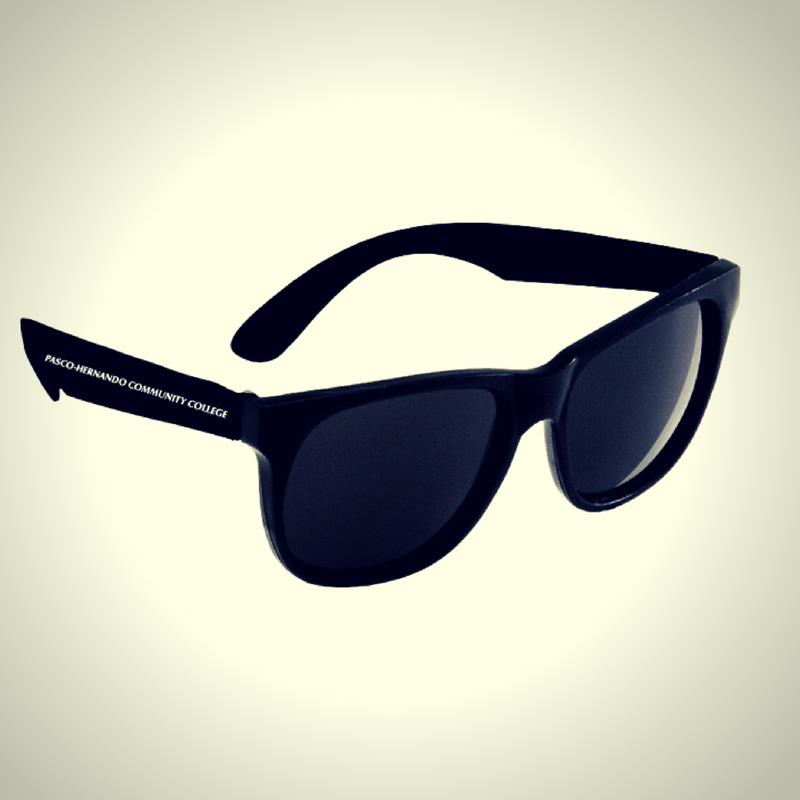 Consider these rad retro neon sunglasses for your next event or giveaway! These adult-sized sunglasses can be custom printed with your logo, artwork or message.
With temples in neon colors and black frames these colorful accessories offer high fashion appeal! They provide 100% UVA and UVB protection from the sun and are buoyant to float in water. Making them ideal for beach themed events and boardwalk retailers. Have your name or logo printed on the temple and use the finished product as a party favor!
Graphic Sunglasses with logo on the lens for maximum brand impression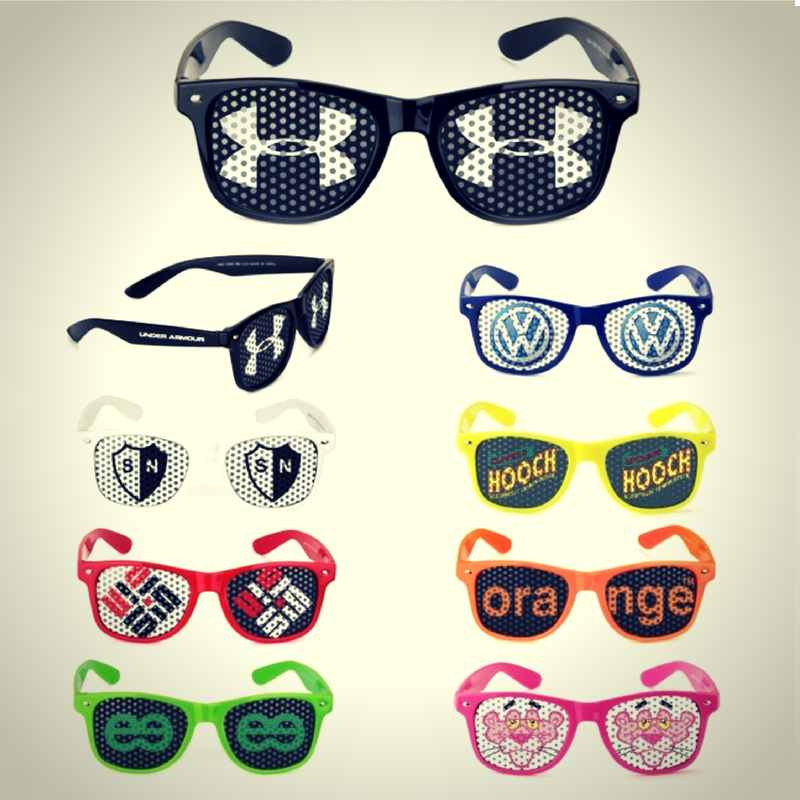 Campaign success is made in the "shades" with graphic sunglasses! Have your logo front and center with your imprint displayed on the lenses of our graphic sunglasses. The effect is similar to looking through a screen. Perfect for sporting events, weddings, rallies, political campaigns, universities, high schools, resorts, clubs and so much more, these UV400 glasses are available in 8 colors!
Personalized sunglasses are great giveaways for summer vacation venues, spring break destinations, taverns, cruises, concert halls, summer festivals, and amusement parks. 4imprint even gave out the Risky Business sunglasses to associates at an outdoor concert event this past summer. They were quite a hit!
Custom Promotional Sunglasses with Your Logo
Not sure how your logo will look on one of these custom promotional sunglasses? W have a new website tool that lets you add your logo to see what it will look like. To try it, click "add your logo", which is button directly under the product image. From there you can remove any logos that are on the product and upload your own logo. Change the logo size, position etc. with the touch of a key.
Promo know-how tip: Hand out themed promotional sunglasses at your next summer event—whether it's a pool party charity event or a grand opening—to extend the visibility of your company name.
Click here to discover more custom promotional sunglasses.