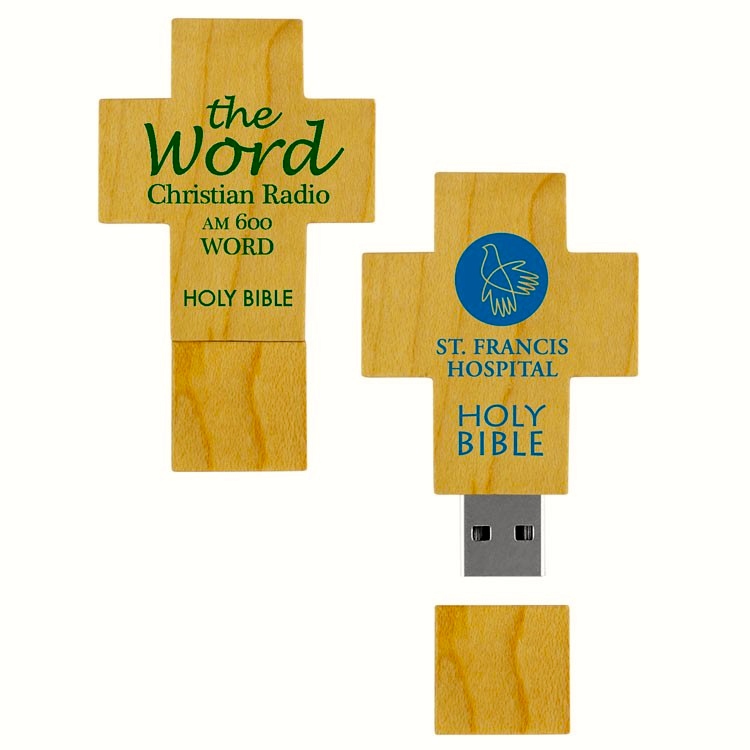 What's easily portable, small enough to fit in a pocket or purse and guaranteed to make a lasting impression? The answer is custom USB flash drives. Religious promotional products are often distributed to promote places of worship. At Brand Spirit, we offer a wide variety of church promotional products for customization and are currently featuring inspirational Bible and Cross shape USB flash drives.
If you are looking for great promotional product for Churches and Religious Organizations, as well as Church Visitor Gifts, Bible Study Promotion, Youth Groups Marketing, Community Outreach Programs and Small Group Ministry for The Great Commission, then you came to the right place.
The inspirational Bible and Cross shape USB flash drive is guaranteed to become a part of your client's life the moment it passes from hand to hand. That's because it simply outperforms a pen that can run out of ink, brochures that may end up in the recycling bin, and other marketing materials that can easily get lost in the shuffle at a trade show or convention.
A custom USB drive is extremely lightweight and compact, but big enough to act as the digital data storage device it was meant to be. This inspirational Bible and Cross shape USB flash drives come with free pre-loaded e-book PDFs – both KJV and NIV translations of the Holy Bible, perfect for churches, ministries, hospitals and faith-based groups!
Spreading His Word through promotional products gives you complete control over your Church's message and identity. Our goal is to help make your purchase an investment, not an expense as well as spreading the Word of Jesus Christ and the Bible through the use of the inspirational Bible and Cross shape USB flash drives.
Click here to learn more.