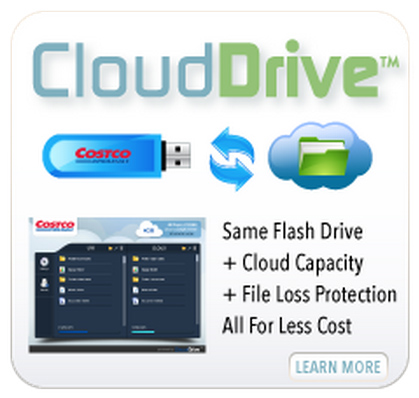 USB flash drives are very popular promotional gifts.  They make it easy to transfer data files to prospects, clients or employees and can also be re-used as external drives for file back up and data transfer.
There have been some notable changes over the past couple of years.  Prices have come down pretty dramatically while capacity has increase substantially. These days there's also quite a wide array of body style available to suit most any promotional gifting need that businesses may have.
But here's the latest innovation.  Now these handy data companions are available with cloud capacity with the CloudDrive.  The CloudDrive is not only a USB flash drive with 1 GB up to 64 GB capacity.  It also backs up the files from your USB flash drive into the cloud.
One nice advantage to the Cloud Drive is that you never have to worry about losing your flash drive again.  If lost, you can simply login to the cloud and easily recover your files.  And your files are also protected should your flash drive end up in the wrong hands.
Prices are for these CloudDrive USB flash drives are also lower than most standard USB drives. For example, a 1 GB USB flash drive with a 3-color imprint is as low as $3.92.  And branded 64 GB USB flash drives can be as little as just $13.81.
With over 20 body styles to choose from, all at the same pricing, promotional buyers are sure to find a style and color to suit your promotional branding needs.
Click here to view additional product information.