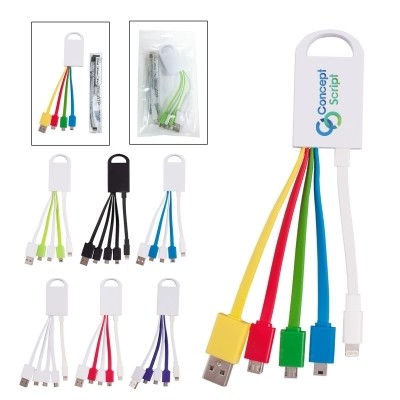 Looking for the next big tech branded gift or giveaway item for trade shows, conventions, meetings and other corporate events?  This Universal 4 in 1 Charging Cable is your answer, a perfect phone accessory useful for everyone.
This universal charging cord features connections for Lightning Connector, Apple 30 Pin Connector, 2 Micro USB Connectors and a Mini USB Connector. Simply Plug the Cable Into a Powered USB Port and Then Into Your Smart Phone or other device.  You can even charge multiple devices at the same time if using an ample power source.
This Universal charging cable also has a full color digital printing options to satisfy even the most complex logos. A true charging buddy as it is meant to be!
Available in the following colors: White/Blue, White/Lime Green, White/Purple, White/Red, White, Black and Multi-color.
Click here for additional product information or to create a free virtual sample with your logo.