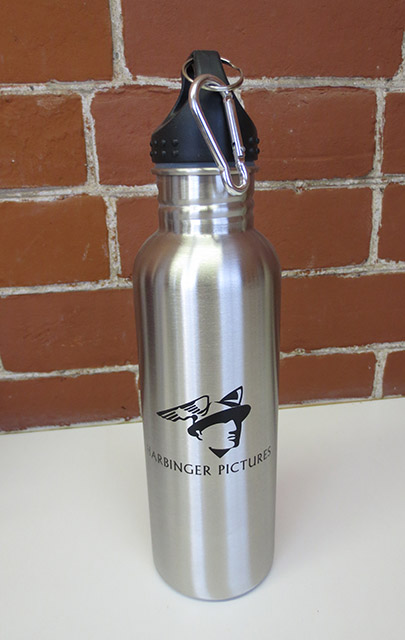 Every year Harbinger Pictures, a feature film production company based in Los Angeles, sends out holiday gifts branded with their logo. The holidays offer a once-a-year opportunity for businesses to show their clients and employees their appreciation for all that they do.
This year, Harbinger Pictures came to Brand Spirit, Inc. for the first time. They selected this Aluminum Water Bottle to brand with their logo after receiving a free review sample. This quality-crafted bottle comes with a carabiner to easily clip to backpacks or belt clips.
"We've ordered bottles with our logo on them for several years now. It is part of our holiday gift. But this year was awesome, we have never had a more enjoyable and easy experience." says H.W. of Harbinger Pictures. "Brand Spirit and Jenna were great to work with, they followed up at every turn. I felt like I was their number 1 customer, I didn't have to think they did all the work, made ordering easy."
What a lovely testimonial! This is our #1 priority at Brand Spirit, to make our clients happy and exceed expectations.
Let's connect! Contact us or follow us on Facebook, Twitter, Instagram, & Pinterest.