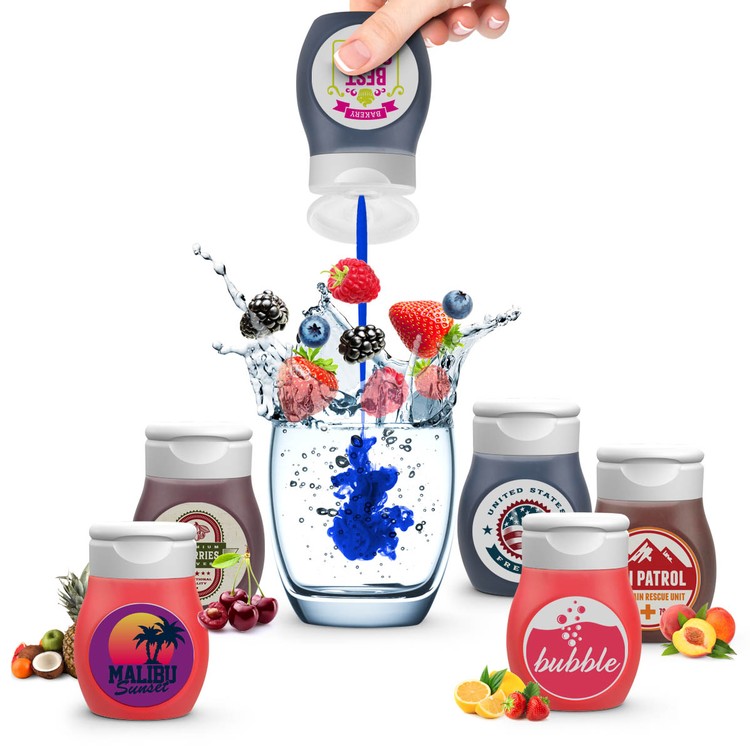 If you are like many millions of people out there who don't really care for the taste of water and need to "doctor up" the flavor a bit to make it more interesting, then you're going to love these new customizable Water Enhancer Drops.
Large beverage manufacturers such as MiO, Dasani®, Powerade® have all come out with their own brands of beverage enhancing drops to get in on this retail beverage craze.
For this custom label version of the drops, there are six sugar-free, zero-calorie natural flavors available:  Berry Pomegranate, Mixed Berry, Black Cherry Tropical, Strawberry Lemonade, or Peach Tea. Black Cherry (energy) contains caffeine as well as B6 and B12 to give you an extra boost – perfect for anyone working long hours or who may need a little extra energy to power through the day.
You can easily tie these into your marketing campaign by adding phrases such as "Give your XYZ a boost" or "Transform something ordinary to something extraordinary"…you get the idea. Custom branded Water Infuser Drops are a terrific idea for use as trade show and event giveaways, health & fitness promotions and more.
Click here to view additional product information.