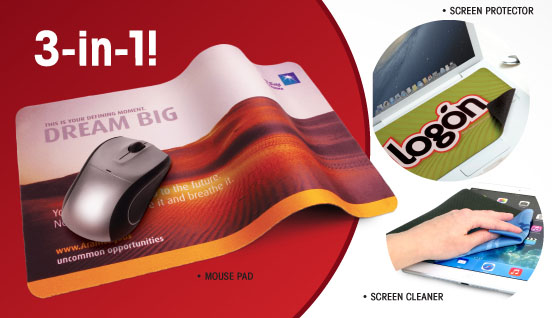 Mouse pads used to be one of the top promotional gifts back in the late 1990's and early 2000's.  Since then it seems that marketers have overlooked this useful computer accessory in favor of newer generation tech-y giveaways.
But even though marketing departments have mostly overlooked the mouse pad as a modern corporate giveaway, it doesn't mean that they are not still just as useful now as they were in the past since the optical mouse hasn't really changed much since the 1990's.
Still, there are newer-generation mouse pads that can better serve the needs required by today's gadgets such as this 3-in-1 Travel Soft ultra thin microfiber mouse pad.
It offers a generous full color imprint area of 10 1/8 " x 6 1/4″ and yet is thin, lightweight and easy to transport to trade shows, conventions, meetings and other promotional events. Since this mouse pad is only 1/16″ thick, it easily lays flat on your laptop or notebook keyboard for easy travel purposes.  Plus it also functions as a screen cleaner which can be very useful for keeping touch screens free of fingerprints and dust.
Click here to learn more about this handy promotional 3-in-1 mousepad.