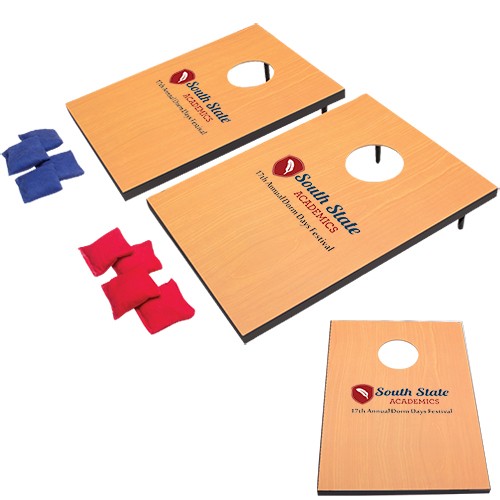 Cornhole (aka Bean Bag Toss) is one of those backyard BBQ games that's grown in popularity over the past several years.  Players compete to win by tossing bags filled with corn, attempting to toss them into the platform hole.  Toss a bag into the hole to win 3 points or onto the platform for 1 point. The first team or player to hit 21 points wins.
Now you can experience all the fun of Cornhole in a mini version.  The game shown above measures in at 9 1/2" x 13 1/2″.
This logo customized Mini Bag Toss game is the perfect size for your desk or office break room. The game includes: 2 Boards, 8 Bags (4 Red and 4 Blue), and 4 Detachable Legs. Your company logo is printed onto the platform up to: 6 1/2" x 2 5/8".
Click here to view additional information.