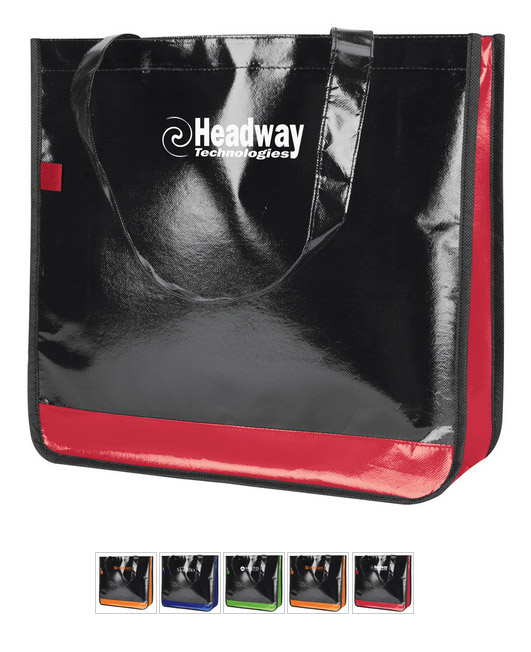 Are you searching for a convention tote bag with a high-tech look and feel?  This shiny Black Midnight Tote Bag is the ideal solution to help your business stand out at conventions and trade show.
It features two shoulder length handles and a pen loop to keep writing instruments handy at all times.  Choose from 4 bright trim color options: blue, lime green, red and orange which give this sleek tote bag a nice pop of color against the black body and handles.
Your custom branded logo can be printed in an area of up to 5″ x 5″.  The promotional tote bag size is 14″H x 15″w x 5″D.  Click here to view additional product information.
Trade show marketing tip:  Businesses spend a large chunk of their marketing budget exhibiting at trade shows, and yet once you get there, you then have to figure out how to stand out among a sea of other booths.
Trade show tote bags are a truly fantastic opportunity to generate buzz on the show floor away from your booth.  If your bag is sleek and unique like this one, people will want to know more about where the bag originated from.  Once they find the source, they will be more receptive to learning what your company has to offer.
Want more trade show marketing tips? View 22 guerrilla marketing ideas for trade shows.