Pinhole Sunglasses are perfect as promotional giveaways for music events. They are attractive, sturdy and a fun way to get noticed outdoors. These sunglasses can serve as ideal gift ideas for fans and audience members.
They are unique advertising tools to get your message across to a young and dynamic audience.
Attention-seeking sunglasses at the right pricing!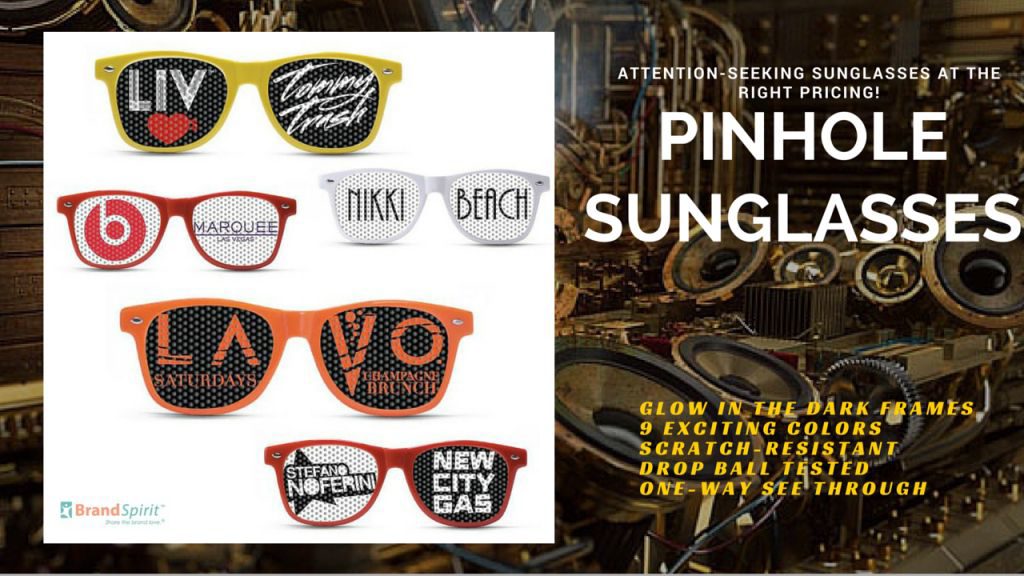 Here are some traits associated with these sunglasses:
✓ Polycarbonate lenses for extra durability
✓ One-way see-through lenses offer a unique experience for wearers
✓ Drop ball tested to verify sturdiness and reliability
✓ Scratch-resistant to ensure imprints remain for years
✓ 9 exciting colors to choose from
✓ Glow in the dark frames available in select colors at extra charge
✓ FDA-approved
✓ Truly American product
The entire surface area of the lenses can be used to advertise a brand or cause. Full color printing on the lenses is standard while printing on the arms cost extra.
Bulk prices start for as low as $1.49.
Need more insights on promotional products for entertainment events? Contact us and we will help you with the right marketing tool for the next event.