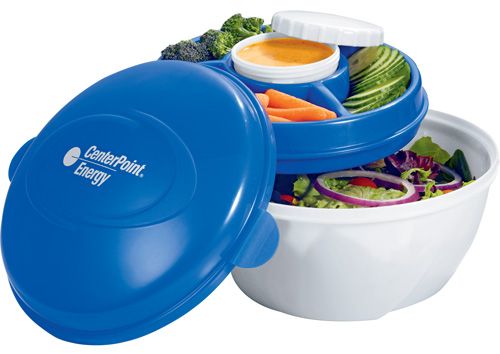 We live in an era where the pursuit of fitness is on everybody's minds. A Nielsen survey of people making resolutions for New Year 2015 revealed an interesting statistic. A majority of resolution takers sought to become fitter and healthier. 2016 witnessed similar numbers but there is one reality – most of these resolution takers abandon their goals within a couple of weeks.
Featured here is a customized food container that motivates people to seek a healthier lifestyle while promoting your brand. The Cool Gear® Deluxe Salad Kit starts for as low as $9.98. This is the kind of giveaway that helps businesses show they care for employees and clients.
Let's learn more about this promotional salad tiffin kit
This product features a freezable gel tray that stores salads and toppings in four cups. A separate container is provided for the dressing. This product's snap closure hinges keep food tight and fresh all day long. This product is FDA-approved and available in blue.
Need additional ideas for personalized food containers? Click here to browse our catalog.