Looking for a low cost health or hydration branded gift? Here is a handy customized water bottle holder that serves as a quality giveaway. This product can be attached to backpacks, belt loops and any clip-friendly product. This clip features a cute runner that will endear itself to users and really drive your active theme home. It can be used when hiking, at school, walking, sight-seeing and more.
This Runner Bottle Holder with clip features a color-coordinated carabiner and a clip ring. It can fit easily around the neck of most bottles of water.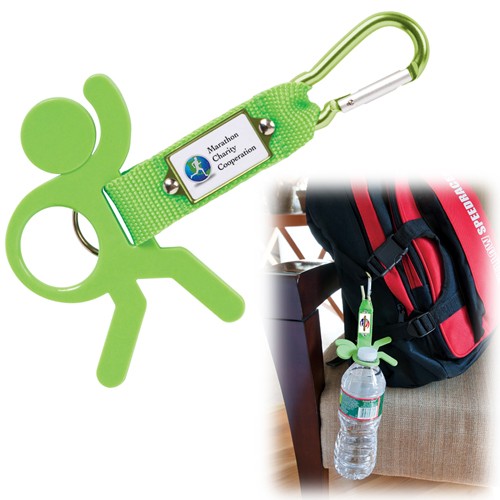 Pricing that easily fits in most marketing budgets
Bulk individually priced between $1.48 and $1.78, this clip is the perfect marketing tool for those looking for economical giveaways. An anodized aluminum nameplate will proudly showcase your logo and message.
These clips can serve as cheap promotional tradeshow gifts
Companies looking for some useful and low-priced tradeshow items will do well by going for these clips. Choose bulk travel logo giveaways and ensure your brand travels far and wide!
Contact us directly if you have any questions regarding this product or if you would like to receive a sample.