Looking for last minute, rush-shipped holiday gifts for your clients or employees? Never fear, we have put together a list of 10 trending branded gift ideas that are sure to make everyone on your gift list happy this Christmas. Each of the business gifts featured here can be shipped as quickly as 24 hours after order placement.
And better yet, you can get the lowest listed pricing for each of these promotional gifts when ordering the minimum order quantity through December 31, 2016. Just mention promo code "Holiday Spirit" when placing your order.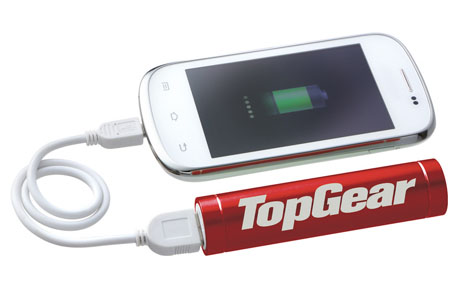 Personalize power banks and chargers come in incredibly handy for anyone that has a smart phone. They provide portable back up power when your phone is running low on batteries and you are not near a power outlet. These customized Bolt Power banks as shown above are made from sleek aluminum metal come in great basic colors such as: black, lime green, red, royal blue and silver. They include your custom, laser engraved logo which turns out as a silver metal color when etched. The small compact shape can easily fit into a purse, pocket or computer case.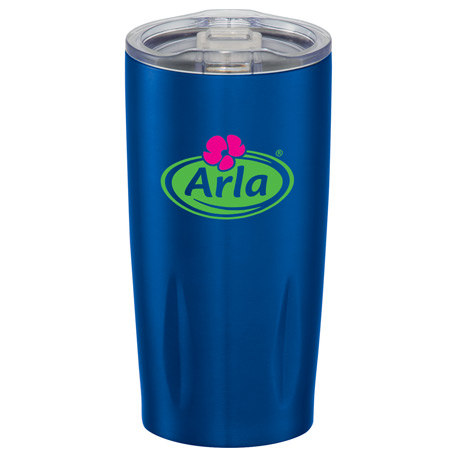 Yeti tumblers have been a huge hit in retail stores this year. This Rocky Vacuum Tumbler has similar functionality, keeping cold beverage cold for up to 15 hours and hot drinks hot for up to 5 hours. Constructed with double wall insulation and vacuum sealed, it's the perfect gift for anyone, whether they drink coffee, tea, juice, water, etc. Pricing includes a 1-color printed logo. Rocky Tumblers are available in: royal blue, silver, lime green, copper and black.
The Rave Light Up Bluetooth Speaker is both functional and fun and is priced as low as $13.49. With this speaker, you can play music from any Bluetooth enabled device such as smart phones and tablets. And when the music plays, 7 different LED colors illuminate…from Red, to Green, Blue, Pink, Orange, Yellow and Purple while playing music. These customizable Bluetooth speakers features up to 4 hours of playback time from it's rechargeable battery. Your logo can be printed in 1-color, or multiple colors for an added cost.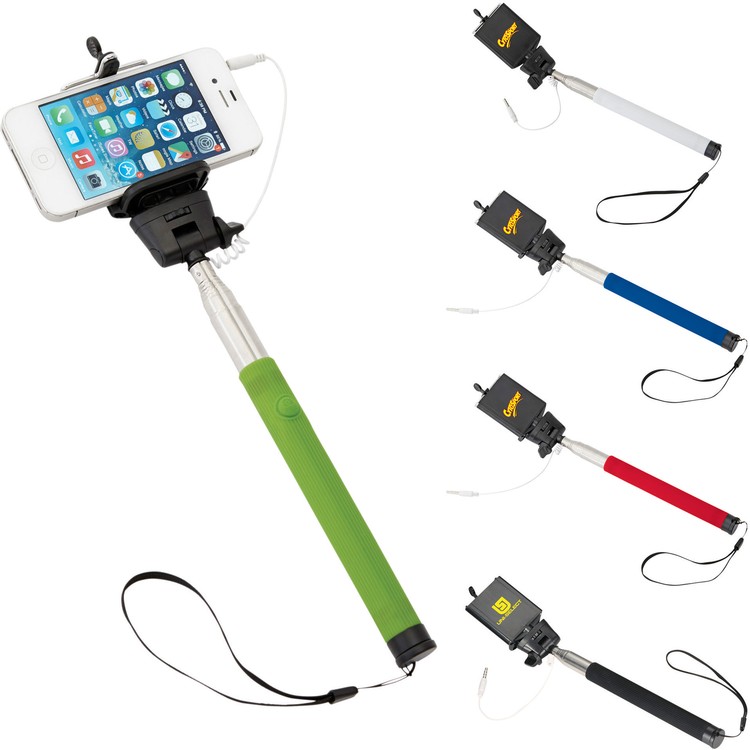 While selfie sticks have been around for a couple of years now, surprisingly most people don't own one, but could probably find good use for them. Why not give them the gift of great selfies with these custom branded selfie sticks. They are available in 5 great colors include black, red, lime green, blue and white. Your logo is prominently branded on the backside so they will never forget the company that gave them this useful gift.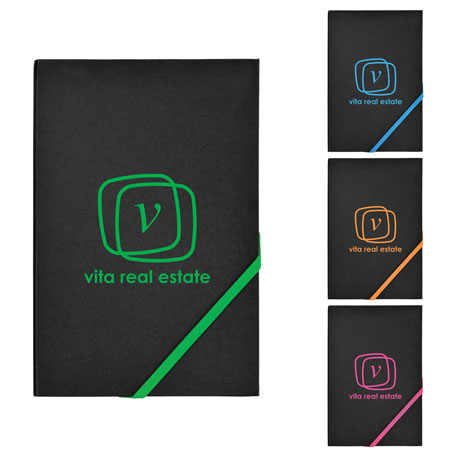 Notebooks are always convenient to have on hand and can be put to good use by anyone. Many people regularly keep a journal available on their desks for note-taking. So why not give your clients and employees a cool branded notebook like this Neon Edge Notebook to remind them of your company each day?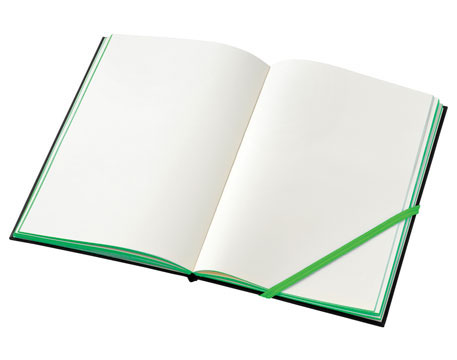 This unique, low cost journal comes in black and features neon colored paper edges and a matching neon band.
Need additional last minuted business gift ideas? Click here to view our online catalog or contact us directly for ideas. We are always happy to help.