Medical industry trade shows are just some of the biggest events throughout the year. With an average of 600+ exhibitors per trade show, events like this present big opportunities for your brand and your business to make the right connection with the right people.
While fun syringe pens are always a hit (because everyone needs an extra pen in their bag), we've put together a nice set of trade show gifts that not only call the attention of more attendees, but are also nice to-haves at home or in the office.
Here are great medical trade show gift ideas for your next event:
Our first set of recommendations could be given away to potential clients as well as fellow medical industry people. The FIRST AID KIT is a great way to showcase your products as well as brand. It comes in a hard plastic travel case with safety seal label. The kit includes: 30 standard adhesive bandages, 10 medium adhesive bandages, 5 7×7-inch compresses, 4 antiseptic swabs, 1 elastic bandage, 1 pair of gloves.
Nostalgia and novelty are also a fabulous way to get attention. The VINTAGE ICE BAG might bring memories of simpler days before the Internet but it packs a lot of punch when it comes to practical use. Just add ice or hot water to soothe the aches and pains. The cap makes good placement for a simple logo and tag line.
Personal care items like the EOS LIP BALM is certainly a fashionable everyday essential. The cute plastic (or rubber) container puts a sprinkle of fun and femininity to your brand. This would be perfect for OB-GYN or dermatologist conventions.
Combine hydration and regular medication together in this awesomely convenient PILL BOX W/ WATER BOTTLE. It's a wonderfully convenient item to have with you while traveling. It's one of the pricier items on this set but the mileage is worth it for your brand.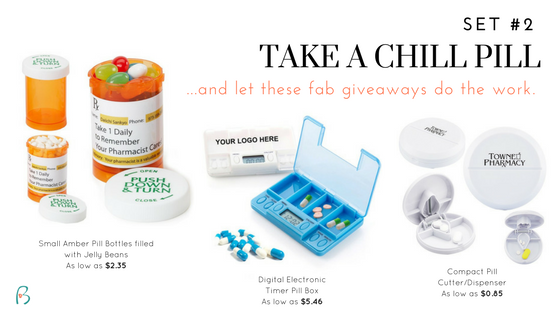 The PROMO PILL BOTTLE WITH JELLY BEANS is a sugary sweet treat for trade show attendees indeed. You can fill it up with other sweets like candy coated chocolates or mints. You can just order the bottles and get creative with the label.
Try out a more premium giveaway and make a strong impression with the DIGITAL ELECTRONIC TIMER & PILL BOX. It's a multi-functional digital medicine box that has cool functions like as a built in timer, alarm reminder, 6 Buttons for easy operation and a 24 hour clock.
The COMPACT PILL CUTTER is also a handy and travel-friendly little tool. It holds 10 to 12 pills that it efficiently cuts with a metal blade. Customize with your logo and you're ready to go.
Purchase with a Purpose: BRAND SPIRIT IS A CHAMPION FOR THE UNITED NATION FOUNDATION'S SHOT@LIFE. EVERY $100 WORTH OF SALES FROM ALL THESE ITEMS MEANS WE DONATE 1 VACCINE TO A CHILD IN NEED.
No time to shop? We'll shop for you and find the perfect custom gift for your project. Find us on Facebook, Twitter, Instagram, & Pinterest or email us at info@brandspirit.com.