Fashion and apparel trade shows like the Magic Las Vegas exhibit this August gathers one of the biggest crowds of the year. Brand owners and special attendees from all over the US come to this event to showcase new fashion collections and exciting industry innovations.
So how can your brand stand out and engage with more people? Start with the right trade show gifts. It's not enough that you hand out your business card. We recommend making it personal and tapping into cute but useful promotional products they'll want to keep using.
Here are a few of our recommendations: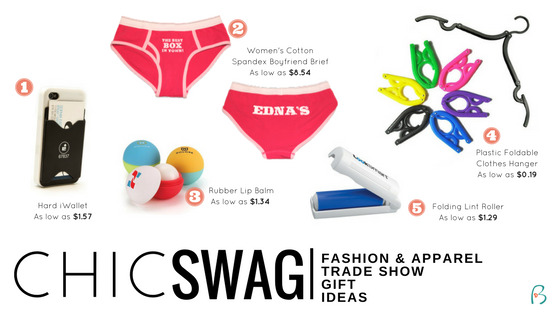 We've been blogging using phone accessories as staple swag items this year and the trend still applies to this type of event. The HARD iWALLET can hold multiple business cards which makes a perfect gift for trade show goers. It's made of plastic and fits perfectly on almost any smartphone. Customize with your logo with your company tagline.
Big brands like KFC have used underwear as part of their brand awareness campaign. Why not get on this trend and add a cute pair of logo printed COTTON BOYFRIEND BRIEFS to your swag bag? It certainly a fun little surprise and most likely an item they can Instagram and share on their profiles. Package it nicely to encourage posting.
RUBBER LIP BALMS have also been trending trade show gifts this year. Mix the colors of the lids for a more fun look. You can also get these in different flavors!
The PLASTIC FOLDABLE HANGERS make great travel items and since attendees will be sampling apparel, why not thoughtfully give them something to hang them on. These come in different colors and your logo can be imprinted via silkscreen.
Finally, top off your swag gift set with a travel-sized FOLDING LINT ROLLER. It's reusable, easy to clean and definitely a fashionista need.
For more information on these items, email info@gobrandspirit.com today.
Share the brand love!