There have been recent studies on the positive effects of fidget toys in the workplace. Spinners, cubes, and seven silly putty have been flying off the shelves because of the increased demand from people working 8 to 10-hour office jobs.
As a business or brand who believes in supporting and developing good talent and productive employees, why not take this trend and translate in into employee gifts on your next company event. This is not only a thoughtful gesture as a business owner and leader but it's also an innovative way of creating a positive company culture.
While fidget cubes and spinners have been around since 2015, developers have continuously created new designs with more fiddles and switches to help your team cope with crunch time.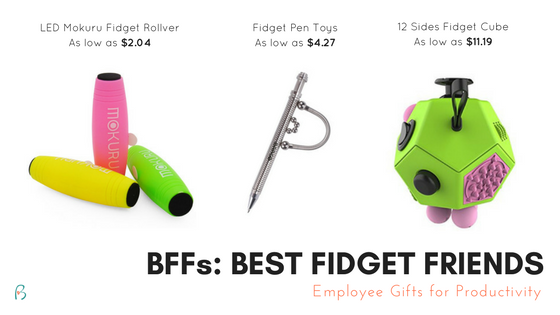 The MOKURU FIDGET REVOLVER is the perfect desktop toy for the fidgety employee. This specific customizable toy lights up too! Add a short message in addition to your logo to make it more personal for the team. Here's how it works.
FIDGET PENS just came out this year and it has all the bells and whistles of a very awesome fidget gadget. It can be bent, rolled, and used as an actual pen. It's made of stainless steel and you can easily customize it by screen printing. Check it out in action below:
Finally, check out the 12 SIDE FIDGET CUBE which technically makes it a dodecagon (the more you know!). It has 6 more addictive fun tactual sensations your employees will love. They also come in fun pop colors that adds an additional stimulating appeal to the fidget toy. Customize it with your logo via screen print. Watch the demo to see its cool new features:
For order inquiries, email info@gobrandspirit.com.
Keep sharing the brand love!