When there's too much to do, when tensions are high, and there is little time to finish everything at work, the inevitability of stress rears its head and we get high-strung, unproductive employees. While it is normal to feel this way once in a while in the office, it's important for management and business owners to nip it in the bud early on before our best employees burn out.
One of the many initiatives of HR is to organize regular company outings or offer gym memberships to tenure employees. Some brands also offer counseling as well as hire speakers to address looming concerns about increased stress in the work place.
There are also gift-giving initiatives that work well. Many brands have also started taking advantage of the recent boom of creative anti-stress toys. Fidget spinners have been trendy employee gifts over the past 6 months, and custom slime makers have been seen all over social media.
We've listed a few more stress relievers that are new to the market and would make great gifts for the entire team.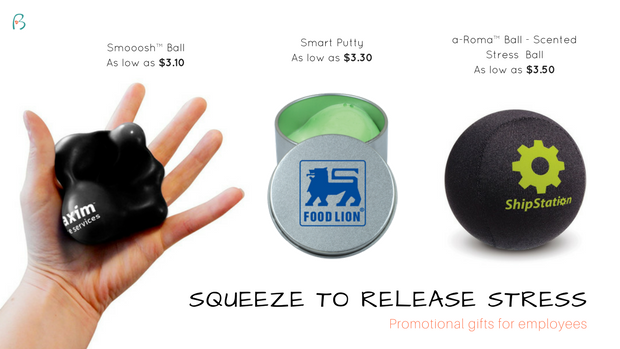 SMOOSH BALLS – Smoosh it up! This stress relief ball is like none other. Smoosh it, and memory foam technology helps the ball to keep that shape. Get mesmerized it slowly returns back to its original round shape.
SMART PUTTY – Bounce it, mold it and let employees stretch their imagination in new directions. Smart Putty is a great stress reliever, executive toy or can be used for therapy. These gifts are also perfect to strengthen and tone the muscles of the fingers, hands, and forearms after injury, surgery, or simply to build strength.
a-ROMA STRESS BALL – This promotional item is a patented stress relieving soft stress ball with aromatherapy scent that releases relaxing aromatherapy scents when squeezed. It's made from high-quality smooth Lycra covering. Definitely a soothing item to have during stressful days.
Your employees will appreciate and love your brand even more.
Let's connect! Contact us or follow us on Facebook, Twitter, Instagram, & Pinterest.