B2B client relationship building requires several processes and skills. Successfully building client relations could be a defining moment for young businesses. Earning clients' trust takes time but leaving a good impression can be achieved after several interactions. On top of providing exceptional service, going the extra mile are instances they will remember. In addition, achieving success in building strong rapport leads to valuable referrals or leads to expand your network.
We recently did a blog on the Do's & Don'ts of Corporate Gift Giving and keeping those tips in mind plus the recommended gifts below, you'll soon be on your way to your clients' nice list this holiday season.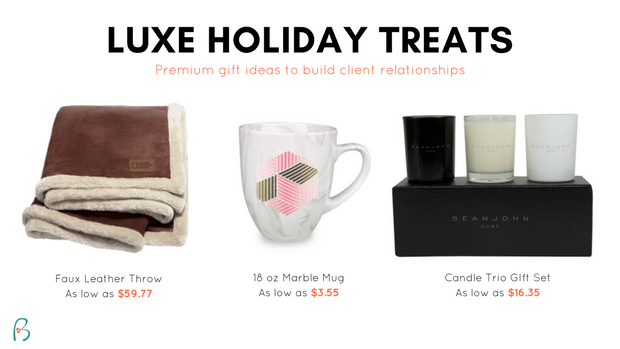 FAUX LEATHER THROW – Rich in texture and wonderfully soft to the touch, this classic, faux leather, faux fur throw combine the look of leather with the richness of soft faux fur.This sophisticated blanket is for creating a look that exudes rustic luxury and will be an eye-catching conversation piece. Care for this faux leather throw is surprisingly easy, as the throw is machine washable. The blanket also comes with a customizable box.
MARBLE MUG – Bring the timelessness if marble in the form of a beautifully crafted mug. This 18 oz. mug has a slightly curved body that is just large enough to wrap both hands around. It isn't a soup bowl with a handle that is pretending to be a mug; this isn't Gilmore Girls, after all. Each ceramic mug has a distinctively unique marble pattern, making each mug one-of-a-kind.
CANDLE TRIO GIFT SET – Mix and match these fab candles to create the perfect look. Choose from black, white, and clear glass containers. The candles are hand-poured with scented soy wax, creating a perfect mood for the holidays. The gift set also comes in a custom hinged box to up the ante on your holiday business gift.
Time to get moving on building those bonds with clients!
Let's connect! Contact us or follow us on Facebook, Twitter, Instagram, & Pinterest.