Urban backpacks these days need to have protective sleeves to hold our computers and other gadgets. This is why giving away custom branded backpacks as employee incentive or customer premiums make them memorable and high-value brand promotion tools.
Your sales team who are on the road can certainly benefit from these bags that have been designed to be checkpoint-friendly, which means traveling with them is a breeze.
Here is a handful of promotional backpack recommendations that'll put smile on customers' faces and put skip to the step of employees.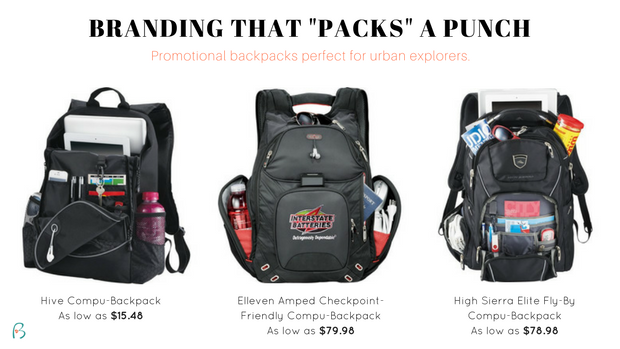 The HIVE COMPU-BACKPACK is a more affordable option but not to be underestimated in function. The zippered main compartment holds your laptop and includes padded compartment for tablets. Its large front pocket has multiple pockets for small items and also has earbud access. It also has convenient two side pockets for easy grabbing of water bottles.
Help customers lessen the stress of plane travel with the TSA-friendly ELLEVEN AMPED CHECKPOINT FRIENDLY BACKPACK. It's a high-value promotional gift for corporate offices or VIP clients. The computer sleeve can accommodate a 17″ laptop and the main compartment can hold a substantial amount of personal items including your phone and tablet. The side pocket has a window for your ID and the key fob on the stap doubles as a bottle opener. PEVA insulated side pocket with exterior mesh pocket Media pocket with earbud port, trolley pass-through.
The HIGH SIERRA ELITE is also a premium promotional backpack that features a checkpoint-friendly laptop compartment to make airports a breeze. It has large, multi-compartment design, Cushion Zone™ padded computer compartment; an adjustable sling system in laptop compartment for 17″ laptops, and a dedicated Tech Zone for your iPad or other tablet. The bag also has a Yoke-style, S-shaped Vapel™ mesh padded shoulder straps with Collar Comfort™ edge and integrated media/cell phone pocket for proper support during those long airport layovers. It also has a comfortable Vapel™ mesh padded back panel with Airflow™ and trolley pass-through.
Let's connect! Contact us or follow us on Facebook, Twitter, Instagram, & Pinterest.