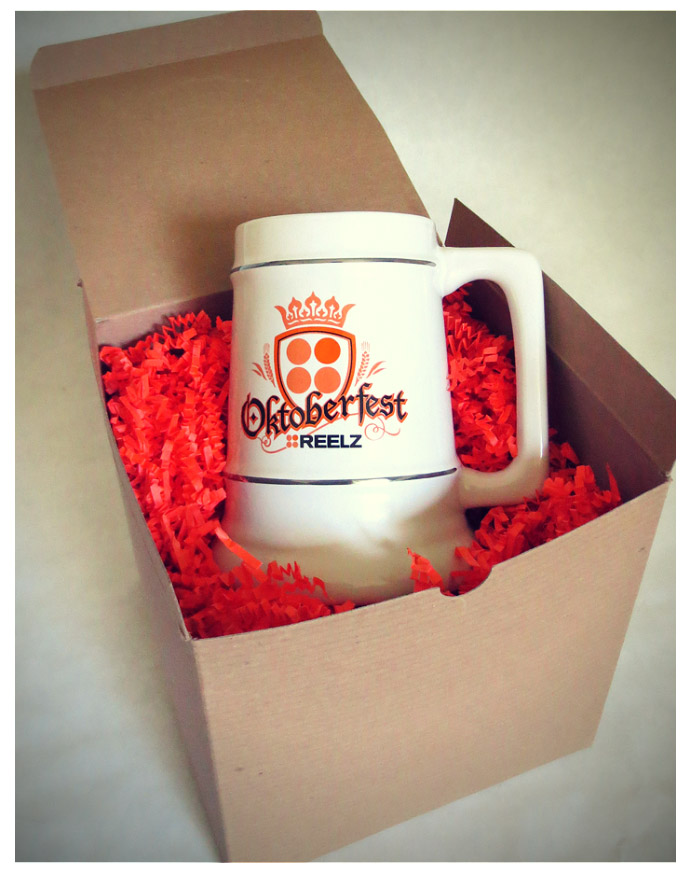 What do you get when you mix an Octoberfest-themed party with the upfronts in April? You get raving reviews from party-goers and SWAG that disappears off tables faster than it can be replenished.
Creating a unique and memorable party gift was top priority for this project for REELZChannel, an independent television channel with original shows such as Hollywood Hillbillies, Beverly Hills Pawn, and Hollywood Scandals.
Since the party was Octoberfest themed, a ceramic German-style beer stein was chosen as the party gift for those who attended. In order to ensure that the clients' artwork really "popped," ceramic decals were used which were then high-fired onto ceramic beer steins. This process fuses the ceramic decal onto the mug so that it seamlessly integrates with the mug itself.
Nice packaging can really take a gift to the next level. So we created custom-printed gift boxes filled with orange crinkle cut filling to hold each ceramic beer mug. These gift boxes were then placed into branded gift bags for easy transport home after the party.
In the end, mission accomplished! The gifts receive raving reviews and our client was thrilled with the results.
After getting the gifts back home, some people even found additional creative uses for the crinkle filling such as this hilarious office prank. Now where are those files?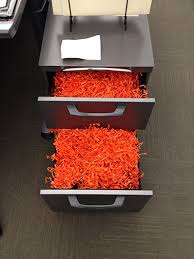 Looking for more ways to surprise the team and share the brand love? We're ready to help! Contact us or follow us on Facebook, Twitter, Instagram, & Pinterest.