Give away these promotional Bluetooth speakers to customers on your next trade show. You can also customize them and present as gifts to employees. What's wonderful about these audio accessories is that they light-up to the beat of the music. This would make cool additions on anyone's work desk or side table.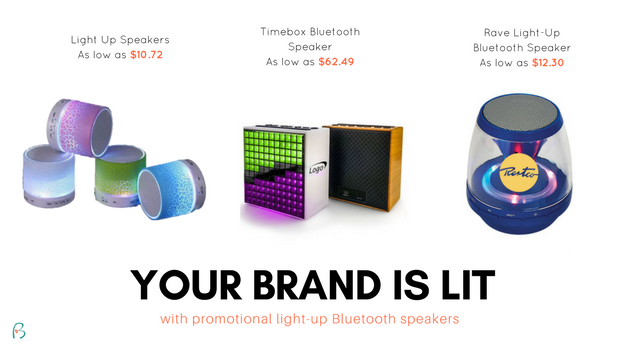 LIGHT UP SPEAKERS – This Bluetooth mini wireless speaker plays music with Colorful LED Lights, just connect to any device has bluetooth fictions. It has Built-in Rechargeable Li Battery for Up To 6 Hours of Playtime.
RAVE LIGHT-UP SPEAKERS – This speaker illuminates in seven colors of red, green, blue, pink, orange, yellow, and purple while playing music. It can be synced by Bluetooth or connected with a 3.5mm audio cable. Audio and charging cables included.
TIMEBOX SPEAKER– It is a smart music gadget beyond your imagination. Customers will be impressed to know that it is one of the world's first smart pixel speaker. It is a Bluetooth speaker, a lamp, a digital art screen, a thermometer, an alarm clock, all in one, which await for your exploration. This speaker features superior sound quality, and a fully customizable LED Pixel Board. Once you connect your phone to your speaker via a Bluetooth connection, and download the Timebox App, you can go customizing crazy for the LED Pixel Board.
Contact us or follow us on Facebook, Twitter, Instagram, & Pinterest.