Is your brand looking for beauty and self care promotional gifts? We have the latest hot picks for the week to help you share the brand love at your next trade show.
Customize with your logo, choose your scents, add your tagline, and wrap them up with your very own special packaging.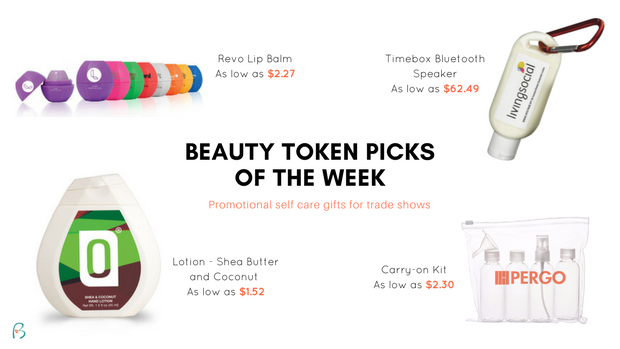 REVO LIP BALM – Join the revolution with the new Revo lip balm. It's unique and popular packaging makes it an eye-catching promotional product. High quality lip balm in a fun new shape. USA Made and manufactured in a FDA registered and audited facility. Available flavors/colors are: Strawberry (Pink), Cherry (Red), Razberry (Blue), Melon Mint (Yellow), Mint (White), Watermelon (Green), Pomegranate (Purple) and Tangerine (Orange).
SPF 30 SUN SCREEN W/ CARABINER – Don't get burned by choosing a promo item that flops at your next outdoor event. Choose our SPF 30 Sunscreen and give your customers a gift they can immediately use and may need! With the carabiner style to easily attach to a bag you'll get ample brand coverage.
SHEA BUTTER LOTION – Excite your customer with this exclusive lotion with unique packaging. Shea butter and coconut oils gives this lotion a high end feel and scent. Available with a 4CP label. It is 100% USA Made and manufactured in a FDA registered facility. These products come with a batch code and expiration date to ensure the safest product available. Complies with FDA.
CARRY-ON KIT – Top it all off with a travel-friendly PVC pouch. It's a zip-top resealable pouch for TSA-friendly travel. Includes three 80mL refillable bottles, one 80mL refillable spray bottle and mini funnel.
Contact us or follow us on Facebook, Twitter, Instagram, & Pinterest.